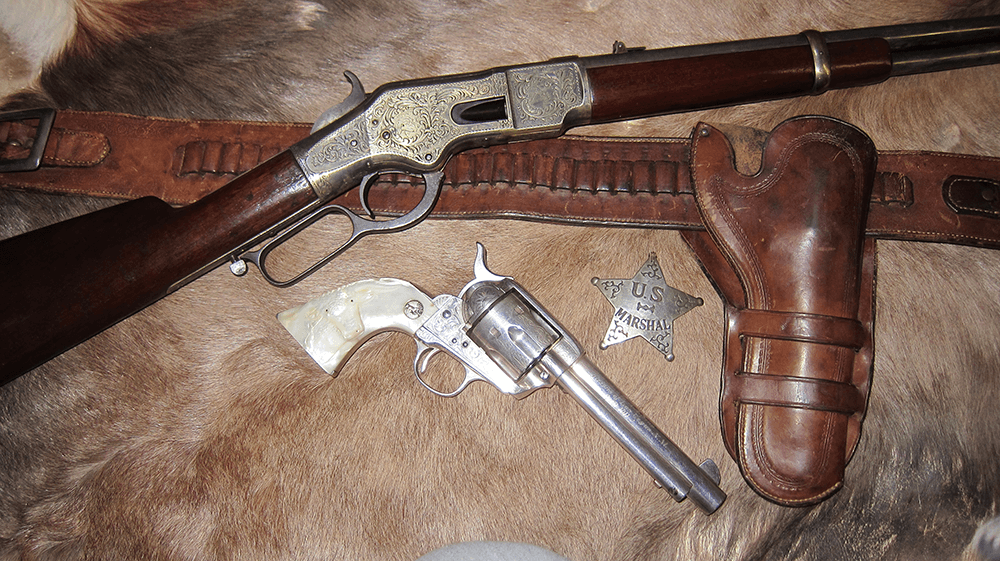 Antique 44-40 Ammo
These Winchester boxes are very desirable to collectors and are always in great demand because of the "old-time" graphics. A picture of a Model 73' carbine is shown on the front side label. The labels specify that the cartridges are for a "Winchester Rifle Model 1873". A great display item to go with a Winchester 73′ or a Colt Frontier Six Shooter of the same era.
Winchester Brand Cartridges
This is a full, UNOPENED, box of antique 44-40 Central Fire, black powder cartridges in overall excellent condition. However, the top green label shows a water stain in the top left corner, about 1″ x ½" in size. Also, a few minor scrapes around the "Central Fire" marking. Otherwise, it is near perfect condition.  The side labels are all intact and un-broken.  However, the box looks like it was on the bottom of the stack and the lid was compressed slightly over the bottom portion of the box.  Therefore, this has caused a few split seams on the ends of the lid where the picture of the cartridge is located.  It is a great looking box, unopened, with the cartridges never being removed.
Covered with plastic wrap for protection.
Clarks Antiques – 44-40 Winchester Ammo – Price $1,200.00
Item #1576
* Can't ship antique or modern ammo to California, Hawaii, and Alaska
This item pairs well with our Antique UMC 44-40 Ammo