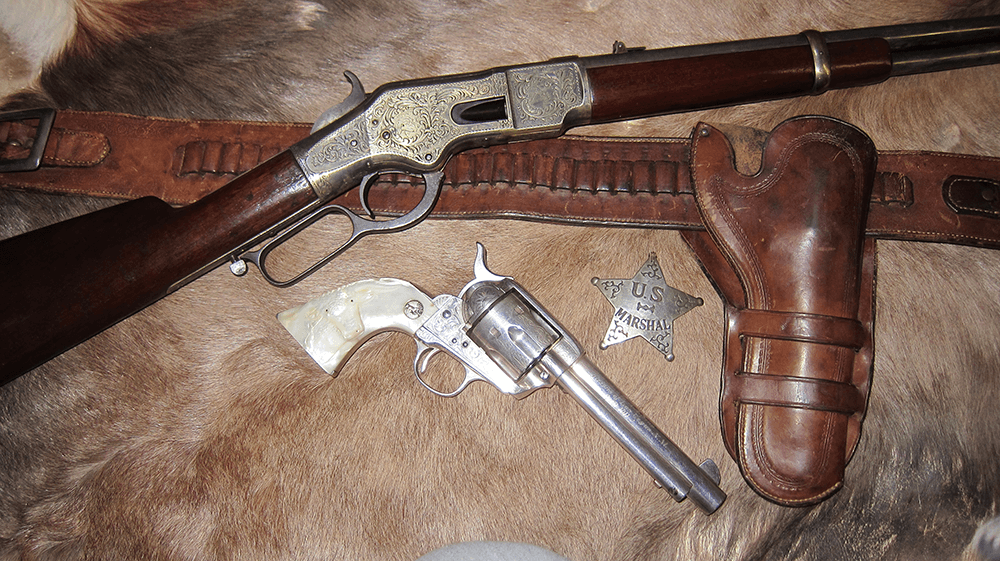 A rare box of early 1870's 44 Henry Rimfire flat cartridges that is still FACTORY SEALED. This Winchester box is in overall fine condition with the top green label showing fading to the darker side.
Winchester Henry Ammo
All the side wrapping is 100% complete and un-broken with "44 Flat R.F." on three sides of the box.  Also, the guarantee marking is on the back side. The side wrap green color is not as dark as the top and the lettering is easier to see. In addition, all the seams are solid with only one small break (about ½" long) at the top right-hand corner. Therefore, this is a very solid box of ammo that is nearly 140 years old.
Certainly, to find an 1870's Winchester box of UN-OPENED 44 Henry ammo is a very rare find.  A box of UN-OPENED Henry ammo from any era is a hard find and this one is in near mint condition. 
Covered with plastic wrap for protection.
Clarks Antiques – .44 Henry Flat Rimfire Ammo – Price $5,000.00 
Item #1591
* Can't ship antique or modern ammo to California, Hawaii, and Alaska
Note:  If you are looking for .44 Henry ammo, single cartridges, we do have a limited selection of rim fire and central fire (.44 S&W American) available for purchase.  Please contact us for selection and pricing.
This Henry Ammo Rimfire pairs well with our Winchester 1866 Henry Marked Rifle