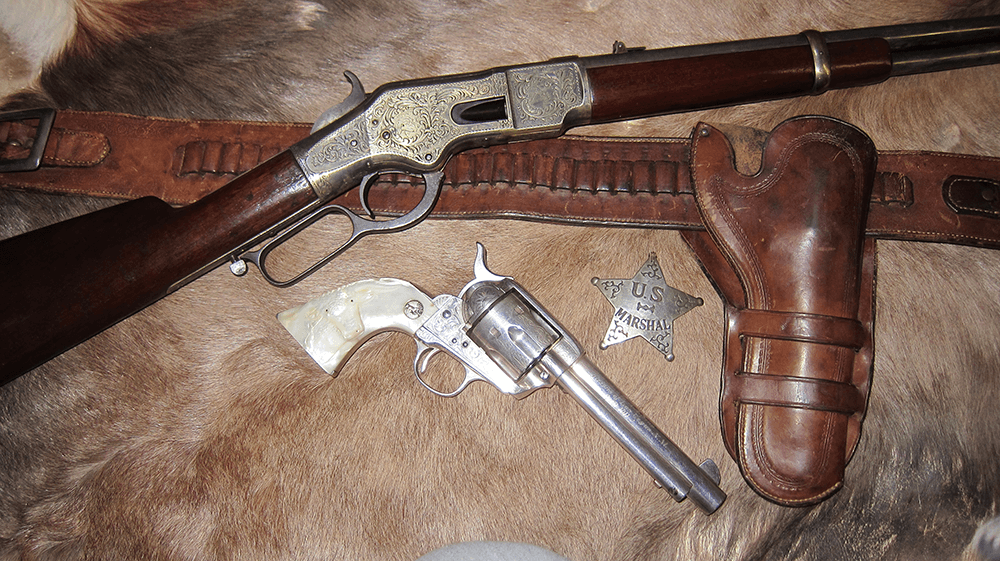 The 44 S&W American Central Fire cartridge was originally developed for the early S&W American Revolver. In addition, this S&W 44 caliber ammo cartridge would fit the Winchester 1866 "Yellow Boys" that had breech pins converted to fire center fire cartridges. Therefore, the 44 S&W American cartridge was the accepted bullet used in converted 66's. That is to say, true center fire Henry cartridges are extremely rare and seldom encountered.
Although converted 1866 Winchesters are common, the cartridges for them are not. We are offering this full box of 44 S&W American cartridges for sale to those of you looking for the correct ammo to display with your converted 1866 Winchester.
Adapted to Converted 1866 Winchesters
This is a full box of .44 S&W American cartridges. The fabric colored two-piece box is in very good condition. Although slightly soiled, showing a blue green label and side wrap. The top label is 100% complete and the side wrap has about 95% remaining. Furthermore, the box is OPENED on three (3) sides and contains all the original, un-cleaned cartridges. In addition, these cartridges are in good condition with some oxidation. The box is marked "Central Fire" and "Black Powder". Also, the guarantee on the bottom is in both English and Spanish and it is 100% complete, over-stamped with a small "K8B BV", meaning ???
A hard to find caliber that will display great with your center fire 1866 Winchester.
Covered with plastic wrap for protection.
Clarks Antiques – 44 S&W American Ammo – Price $1,000.00
Item #1459
* Can't ship antique or modern ammo to California, Hawaii, and Alaska
Note:  If you are looking for .44 Henry ammo, single cartridges, we do have a limited selection of rim fire and central fire (.44 S&W American) available for purchase.  Please contact us for selection and pricing.
This 44 S&W American Ammo pairs well with our Winchester 1866 Trapper SRC