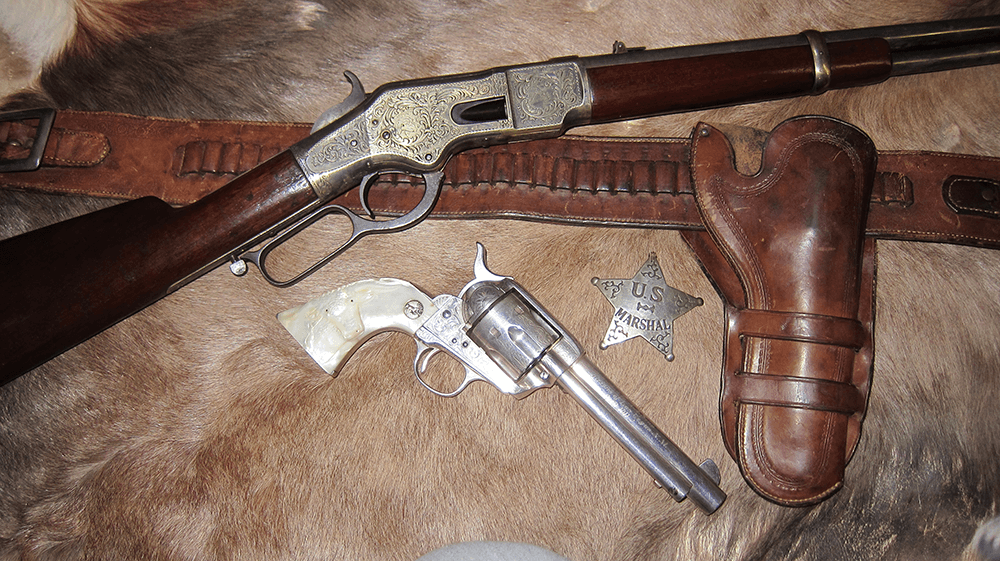 Frankford Arsenal, December 1873
This box of Frankford 45 Colt ammo for sale is very early and rarely found. It has been OPENED and contains all 12 of the original cartridges. The box and cartridges are in fine condition.
These Frankford Arsenal manufactured .45 Colt cartridges were produced for the Cavalry during the Indian Wars. The first major block of U.S. Cavalry revolvers used during the Indian wars were early Ainsworth inspected Colt SAA's. For that reason, this rare and fine box would be a great accompaniment for an early Ainsworth inspected Colt SAA.
History – Frankford Arsenal
The first 1000 Colt Single Action Army revolvers sold to the U.S. government were received at the Springfield Armory on November 28, 1873. Shortly after, the Frankford Arsenal began supplying .45 Colt ammunition for use in these revolvers. This new ammunition was different from civilian ammo as it had an internal center fire primer and appeared to be a rimfire – which it was not. These early 12 pack boxes were dated by the month and year they were produced. This box of cartridges for sale is dated December 1873 and may be the earliest Frankford loading for the Colt .45. A very rare box of ammo, in any condition, I have not come across any earlier dated boxes than this one.
Later, when the Schofield revolver was added to the government inventory, these cartridges were made shorter to accommodate the S & W Schofield, as well as, the Colt Single Action revolver.  In addition, these later smaller cartridges showed the external primer same as commercial cartridges.  Unlike the boxes of the first 2 years, these later shorter cartridge boxes were ONLY marked with the year of manufacture. Thus, this box for sale is a rare find with the dated month and year.
Wrapped with plastic wrap for protection it appears almost UN-OPENED.
Note:  Also, we have other dated 12 packs of the later cartridges in our inventory.  Please contact us for photos and prices if you are interested.
Item #1604
Clarks Antiques – Frankford 45 Colt Ammo – Price $1,250.00
* Can't ship antique or modern ammo to California, Hawaii, and Alaska
If you like this, you may also be interested in our 45 Long Colt Antique Ammo