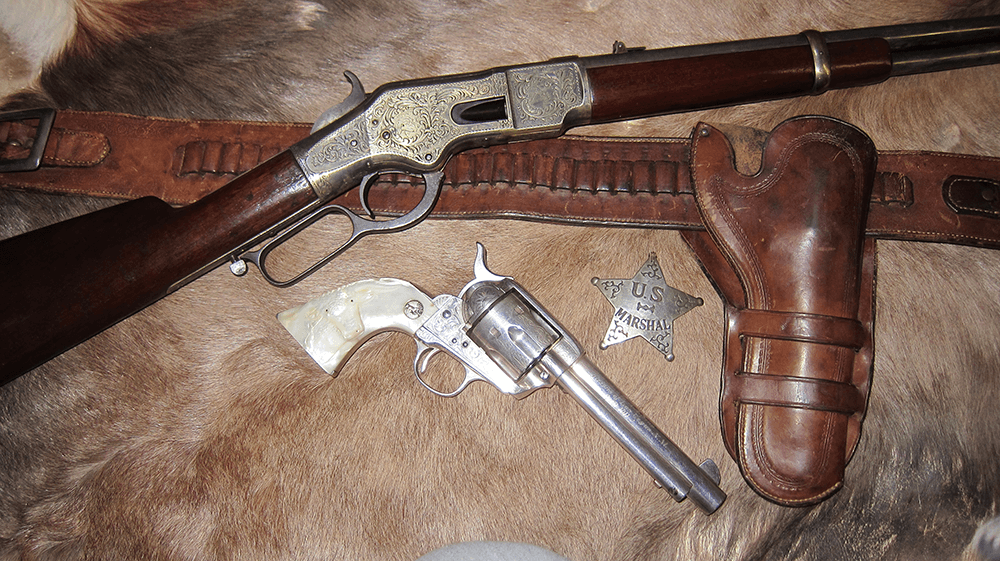 Unopened Box of UMC Brand Cartridges
A fantastic box of UNOPENED UMC brand 44 Henry Rimfire Ammo. This later box of UMC brand cartridges was manufactured prior to the UMC/Remington merger in 1911, showing the rare "U" in the red circle on the top label. Although it has the "UMC" in the red circle on both ends, later boxes of this type had the "UMC" in the red circle on the top label as well. My inclination is this is a transition box earlier than the "UMC" top marked boxes.  After the merger with Remington all their cartridge boxes from then on were marked "REM-UMC". The end side labels of this box are also stamped ".44 Henry R.F. Flat" & "Black Powder". The guarantee label on the bottom of the box is in excellent condition also.
History of the .44 Henry Rimfire Cartridge
One of the great reasons for the ultimate success of the Henry rifle, most notably the Henry Model 1860 repeating rifle, was the self-contained metallic .44 Henry cartridge.
In 1854, the Smith & Wesson Company had patented a lever action pistol using a toggle action and an integral front-loading magazine.  Unfortunately, the "rocket ball" ammunition used with this design left much to be desired.  Despite the limitations of rocket ball ammunition, the rocket ball was used in a number of attempts at making a commercially successful firearm.  As a result, this lead to the reorganization and creation of the Volcanic Repeating Arms Company.
During this Smith & Wesson reorganization, Oliver Winchester became a major stockholder, eventually controlling the Company.  Subsequently, Winchester hired B. Tyler Henry to improve the Volcanic design.  B. Tyler Henry went one step further by improving the cartridge.  He invented a copper cased self-contained cartridge which made the bullets more reliable. Accordingly, the .44 caliber rimfire cartridge was born. With his new metallic cartridge and S & W's lever action design, he developed the Henry Rifle.  Thus, the henry rifle, using the .44 rimfire cartridge, was the first reliable lever action rifle.
A box of UNOPENED Henry ammo from any era is a rare find and this one is in near mint condition. This is the best condition Henry ammo box I have had the pleasure of finding. It shows slight darkening of color from age and just a few minor rub and nick marks from handling. On a scale of 1-10, I would rate it a 9 ¾.
Wrapped in plastic for protection.
We have several other boxes of factory sealed UMC Brand Henry boxes from the 1911 era.  If you have any interest in them, please contact us for pictures and descriptions.
Clarks Antiques – 44 Henry Rimfire Ammo – Price $4,500.00
Item #1516
* Can't ship antique or modern ammo to California, Hawaii, and Alaska