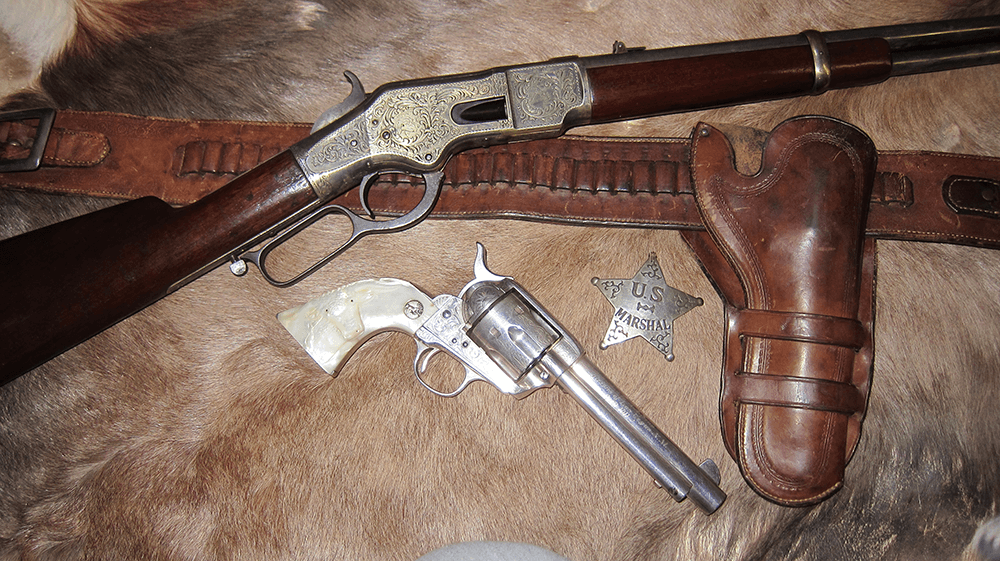 Circa late 1870's – early 1880's
A great box of rare antique 44-40 Ammo that is rarely found.
An ultra-rare first issue of the popular third style black powder box that is seldom encountered and difficult to find. These Winchester boxes are very desirable to collectors and are always in great demand because of the "old-time" graphics. A picture of a Model 73' carbine is shown on the front side label. The labels specify that the cartridges are for a "Winchester Rifle Model 1873". The un-headstamped cartridge pictured on this box is the all-important factor in determining the age and rarity of an otherwise common box.
Antique 44-40 Ammo – Condition
This box of 44-40 Central Fire, black powder cartridges is in overall very good condition. It has been OPENED and contains all the original cartridges that are in fine untouched condition. The cartridges in the box show Winchester head-stamps. Of the very few of these boxes I have encountered, some had no head-stamps and others had the normal Winchester head-stamps. It was a process that Winchester used by using up what they had, while up-dating their changes.
The top green label shows a few minor rub spots and abrasions; otherwise, it's in fine condition. All the side label wrapping is present, and very good, and the box top shows one seam repaired at the back right corner. Inside the lid is the original reloading information only known to these rare early boxes. The reloading label is in fine condition and fully readable.
We also have another one of these ultra-rare boxes in FINE condition, but is un-opened,
factory sealed
. It is priced at $3000.00. Contact us for more info and photos if you are interested.
Covered with plastic wrap for protection.
Clarks Antiques – Rare Antique 44-40 Ammo – Price $2,000.00 SALE PENDING
Item #1697
* Can't ship antique or modern ammo to California, Hawaii, and Alaska
If you like this you may also like our Winchester 44-40 Ammo