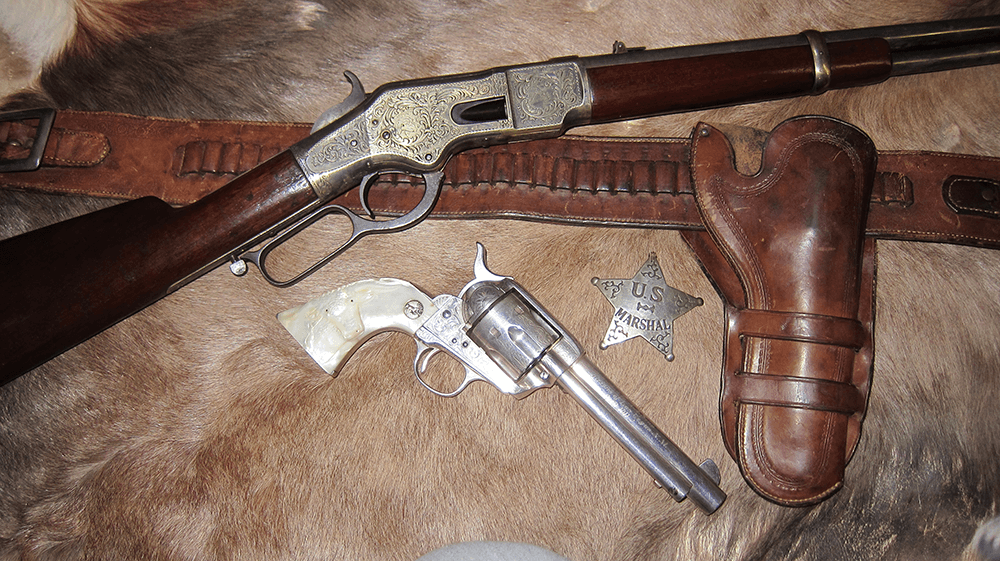 A very nice OPENED box of Remington UMC 44 Henry ammo. This later box, marked ".44 Henry (Flat) Rim Fire Cartridges", was manufactured after the Remington/UMC merger in 1911.
Henry Ammo Box Condition
The box shows the "Remington/UMC" in the red circle logo on the top label and both end panels.  Also, the end side labels of this box are stamped ".44 Henry R.F. Flat" & "Black Powder".  Although, darkened slightly with age, the top label is in excellent condition.  But shows no damage or rubbing. The bullet pictured on the lid is marked "44 Henry Flat" & "Model 1866". The side labels are all intact, only cut for opening, and note: "Specially Adapted for Model 1866 Rifles & Carbines".
The guarantee label on the bottom of the box is in good condition and printed in both English and Spanish. The box is solid, just showing a natural age induced split seam on the top right side. There are several side seams, both top & bottom, with glued repairs that are very well done and mostly unseen.
All the original cartridges are present and are in very good overall condition. They all have the correct "U" head stamp.
Check our Web Site or email us for more .44 Henry ammo selections. We have additional full boxes, both on and off our site, for sale. Covered with plastic wrap for protection.
Clarks Antiques – Remington UMC 44 Henry Ammo – Price $2,500.00 
Item #1637  
* Can't ship antique or modern ammo to California, Hawaii, and Alaska
Note:  If you are looking for .44 Henry ammo, single cartridges, we do have a limited selection of rim fire and central fire (.44 S&W American) available for purchase.  Please contact us for selection and pricing.