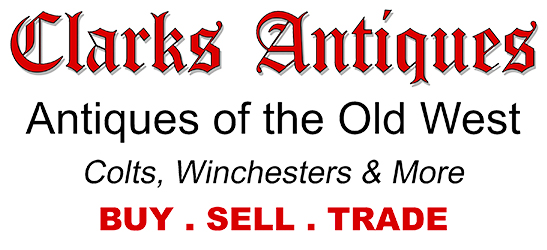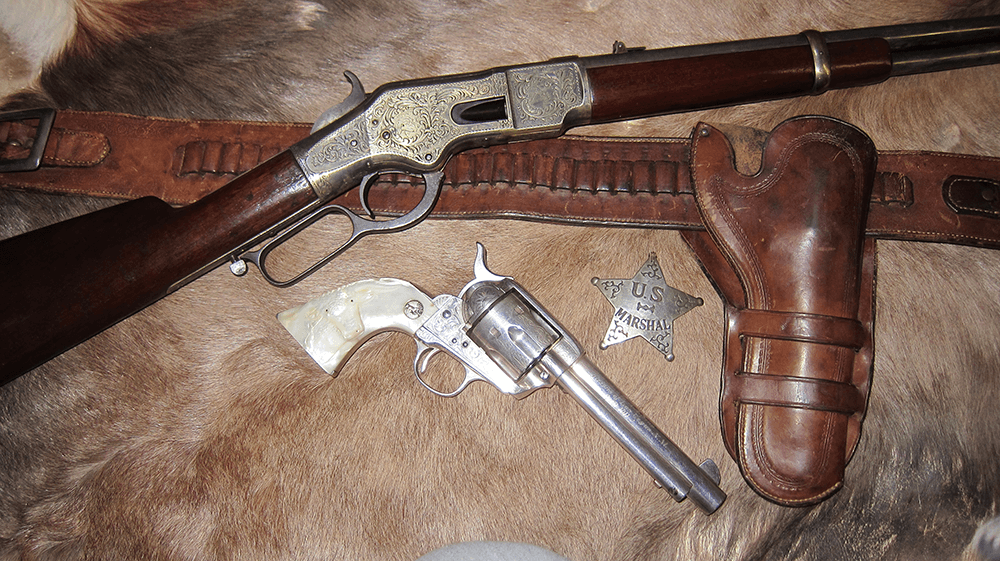 New Items Recently Added to CLARK'S ANTIQUES
In Rare Full Nickel Finish
Clark's Antiques New Items arrival is this beautiful Winchester 1866 SRC with standard features and special-order full nickel finish.  It has been period converted to center fire and was most likely used well in to the 20th Century.  Its date of manufacture is 1877.  This Winchester "Yellow Boy" 1866 carbine would be a valuable addition to any period collection of cowboy memorabilia.
Western Holster and Cartridge Belt
for a Colt Open Top Revolver
A rare early rig for a Colt Open Top revolver, consisting of a slim jim holster and a narrow width cartridge belt. They are both in overall good solid condition and made Circa 1871-1872.  A nice hard to find western holster and cartridge belt in any condition.
US Cavalry Belt and Cowboy Holster
Pattern 1885 Prairie Belt
A pattern 1885 regulation .45 caliber cartridge belt, type 1 with 45 cartridge loops.  It is accompanied with a commercial single loop half flap holster.  Both are Circa late 1880's.
44 Henry Rimfire Cartridges
A highly desirable box of early 44 Henry Rimfire Cartridges. The box is marked "50 Cartridges for Henry's Repeating Rifle, Manufactured by the New Haven Arms Co."  This is the rare "Tall 4's" box, the RAREST of the three variations.  In excellent overall condition.