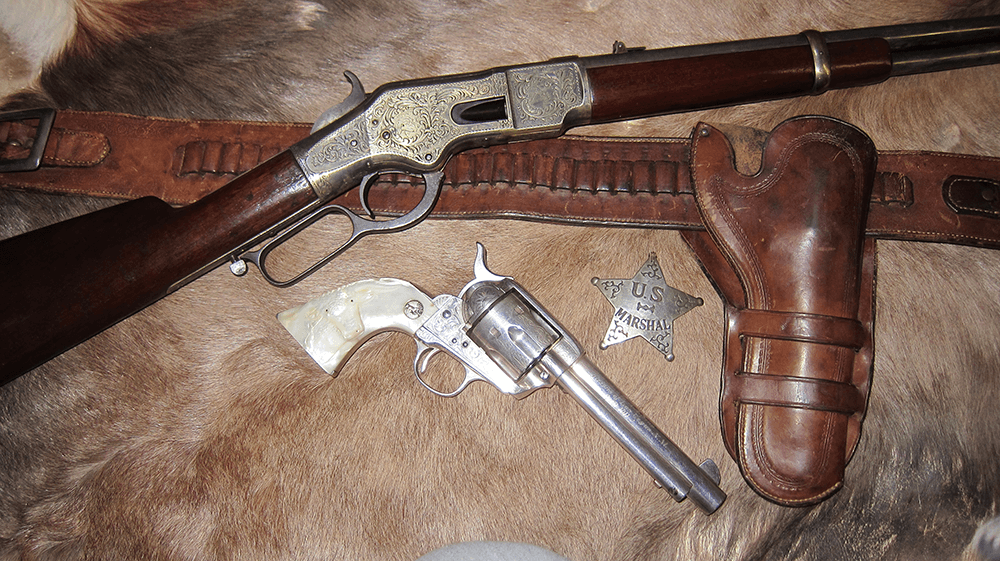 1860 Army Flap Holster Rig
This U.S. issue 1860 Army Flap Holster Rig is an especially nice example to accomodate a Colt 1860 Army revolver in similar condition.
Artifacts from the Civil War are very collectable. Being victims to age and deterioration these items are becoming more scarce as time passes. Finding good holsters and belts to go with period handguns is a continuing challenge for today's collectors.  
Nice Original Civil War Holster
The holster is maker marked, which most of these holsters were not. Furthermore, the holster is completely intact with no damages or losses. Also, all the stitching is original and completely intact. The sewn-in toe plug is original and still sewn in place. Lastly, the belt loop is sewn and riveted in place with its original copper rivets.
The belt loop shows the makers name "E. GAYLORD". E. Gaylord of Chicopee Falls, Massachusetts was a supplier to the U.S. Army from 1863 – 1865.
The waist belt is of the same era, showing the 1844 Pattern plate and a sheet brass keeper at the opposite end.  Also, It shows a "US" stamping at the middle of the belt, but the makers stamping under it is illegible.  In addition, the cartridge pouche has a makers mark stamped under the cover that is also illegible.
The rig is in very good overall condition, still showing some of its high gloss finish. However, the rest flaked off. The leather is still soft and supple, black in color, and shows no recent oiling.  There is no leather damage or losses.
Clarks Antiques – Antique Gun Leather – 1860 Army Flap Holster Rig – Price $1,750.00 SALE PENDING
Item #1595
If you like this, you may also like our 1896 Military Flap Holster Rig