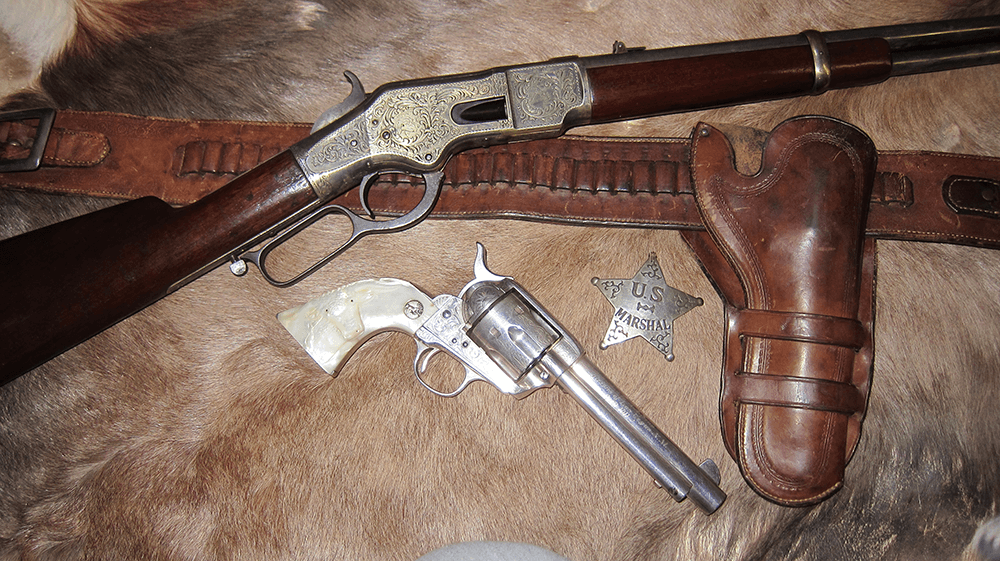 for Colt 1860 Army Revolver
Antique Holster Circa 1860
This beautiful, early tooled, 1860 Slim Jim Rig is unmarked as to maker. A very attractive piece of Western gun leather with nice period tooling on the holster. The "Slim Jim" styles were made popular during the California Gold Rush era, and are especially appropriate for cap and ball and conversion revolvers.  Thus, this civil war era civilian holster was made for a Colt 1860 army revolver. These Slim Jim holsters were popular with civilians and soldiers alike, as they did not have the cumbersome flap to deal with and they were a right-handed design.  
Condition – Slim Jim Holster
Although the holster is in fair-to-good condition, the leather is supple.  Most of the holsters original dark brown sheen is present with just a few areas of wear. In addition, the original belt loop is retained, attached with period copper rivets.  Also, the toe plug is still in place. The holster shows an old re-sew at the seam with areas of separation. The belt is a post-civil war infantry belt. Also, the belt is missing the original brass plate (buckle) and it is in the same fair-to-good condition as the holster.
There is a marking on the back of the hasp attachment of "D ?". Could be an inspector's mark??? There is also a name inked on the back side "Scbdane", or so it appears.
All-in-all it's a good-looking rig that would look even better with a U.S. or C.S. brass plate. A great all around looking rig to go along with a good condition 1860 Army Colt.
** Toy gun shown in Clarks Antiques antique gun leather photos not included.
Clarks Antiques – Antique Gun Leather – 1860 Slim Jim Rig – Price $1,450.00
Item #1608
If you like this you may also like our Slim Jim Holster