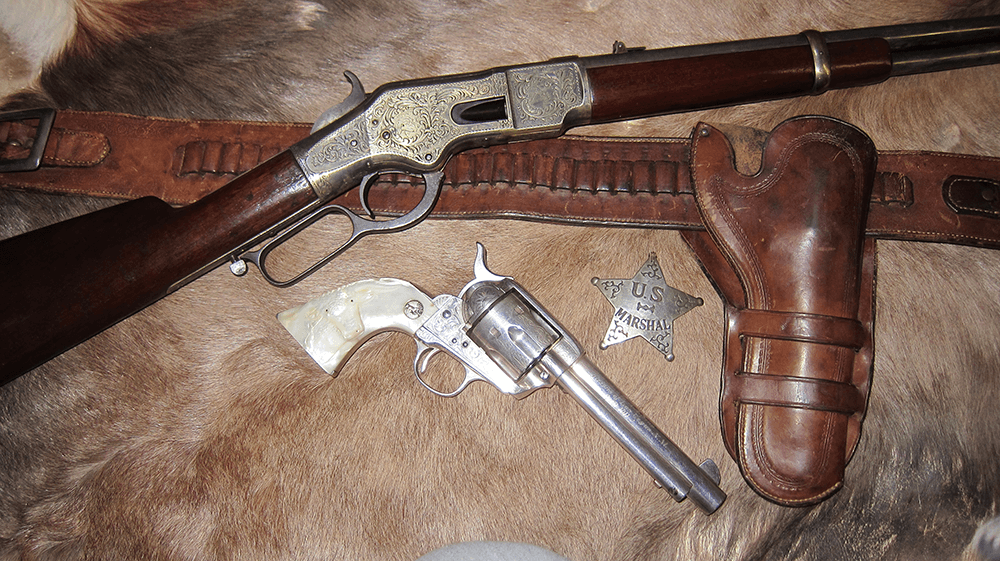 This is an exceptionally nice 1874 Cavalry Belt Rig with the scarce 1874 Hazen Cartridge Loops for the 45-70 carbine. This rig is a typical Cavalry Trooper's belt rig worn during the Western Indian Wars.
The belt is an 1874 Cavalry belt in fine condition.  However, the belt shows one well-done repair/extension, unseen, on the back side. The belt has the 1872 "US" belt plate, showing a nice mellow patina.  Also, the 1874 Hazen Cartridge Loops are in excellent condition, showing the "Watervliet Arsenal" stamp on the back and "A.R. Smith" inspection stamp.
Holster Condition
The flap holster is an early model, first type 1881 pattern, with the small belt loop on the back, suitable for a Colt SAA or Schofield revolver. It has the embossed "US" on the front, along with an illegible inspectors mark at the bottom of the flap.  Also, it shows a makers stamp half way up the flap with only the bottom "Arsenal" marking vaguely visible.  However, the holster is in excellent condition and comes with the original toe plug in place.
The 1872 Pistol Cartridge Pouch is in excellent condition with the makers mark under the cover.  Although, all I can make out is "Quincy Ill". Also, it still retains the sheep wool interior.
All the parts of this rig retain all of their original stitching – all complete and good. All the leather parts show their original gloss finish with only the holster flap gone dull. There is no damage to any of the leather other than the repair/extension as previously mentioned.
Most certainly this is a great rig to go with a fine condition revolver.
Clarks Antiques – Antique Gun Leather – 1874 Cavalry Belt Rig – Price $2,750.00 SALE PENDING
Item #1617
If you like this you may like our 1872 Pattern Infantry Belt