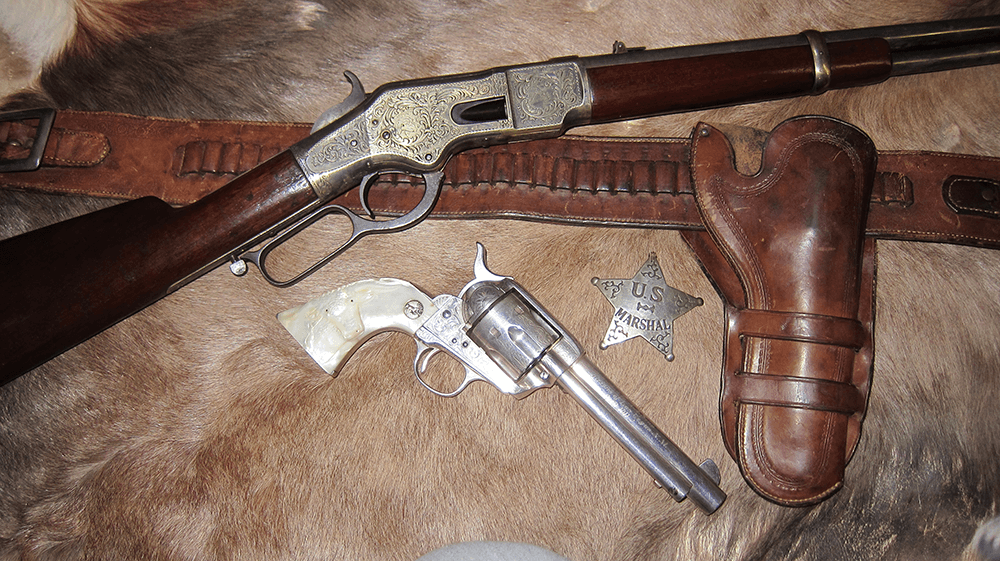 An antique holster & belt, circa 1885 – 1895. The holster is for a 4 ¾" Colt SAA and the belt loops will accommodate .38 Colt or .41 Colt cartridges. The holster is a hand tooled and chamois lined single loop holster in overall fine condition.
Holster Condition
The holster pouch tooling is beautifully accomplished as well as the hand tooled border tooling. The pouch shows all its original raw hide lacing and is in good solid condition. The chamois lining completely covers all the rough sides of the leather, stitched in place, with that stitching also completely intact. However, the only wear showing is a few small spots on the chamois.  Along with, one stitch of the raw hide missing at the toe of the pouch.
Belt Condition
The belt is a money belt, 2 ¾" wide x 40″ long. It has 35 bullet loops to accommodate 38/41 Colt cartridges. Although, the belt has no maker markings, it has catalog markings "40 38 55" and the tongue is marked "38 55 123". The leather is supple, showing a polished medium brown color finish. However, there are a few cracks in the leather.  Along with a small 1 ½" loss in the body sewing at the top, as seen from the back side. About 95% of the stitching is intact with the tongue chape being re-sewn, as well as all the cartridge loops. The rest of the stitching looks to be original as is the buckle. It is a great looking belt in good overall condition and fits the holster in color and of the same era.
**Colt SAA and .41 caliber bullets in belt shown in Clarks Antiques gun leather photos not included.
Clarks Antiques – Antique Gun Leather – Antique Holster & Belt – Price $1,250.00
Item #1641