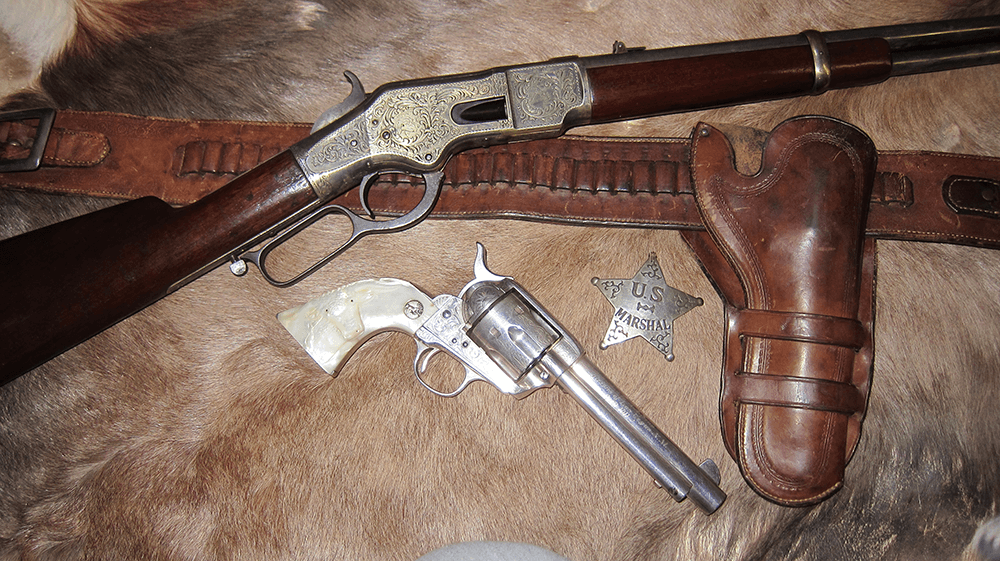 Antique Holster & Money Belt
for 7 1/2″ SAA or 1860 Army Conversion
A very nice antique holster & money Belt, circa 1880's. The holster will accommodate a Colt 7 ½" SAA or 1860 Army Conversion.
Holster Pouch Condition
The holster pouch is made slightly longer to accept the 8″ barrel on the Colt 1860 Army Conversions. The double loop holster is Merwin & Bray marked, showing their intertwined monogram "MB & Co." on the front top of the pouch and a "6" on the three-quarter length skirt. It is  in very good condition with no losses to the leather, just showing some honest use. All the stitching is original and good with about a 1" length of a raw hide repair at the top portion of the stitching.
Money Belt Condition
The belt is a catalog money belt, showing use and some re-sewing. It is 34" long (with an extended tongue chape) and is 3″ wide. It has 36 cartridge loops for .44 caliber bullets. The buckle chape has stamped catalog numbers "N.96" and "44.C". The belt is in very good overall condition, same as the holster, and showing a re-sewn bottom edge, a few age cracks and some fraying on the bottom edge. The cartridge loops stitching is strong (a little re-sewing here-and-there), a few broken loops, all the rest in good condition. The leather is supple and shows no oiling in recent times. The original buckle retains 95% of its nickel finish and an additional money slot is cut behind the buckle – see photos.
Merwin & Bray Company had several locations in New England after the Civil War. They marketed firearms and gun leather produced by other manufactures under the Merwin & Bray name.
**Toy gun and .44-40 cartridges in belt shown in Clarks Antiques gun leather photos not included.
Clarks Antiques – Antique Gun Leather – Antique Holster & Money Belt – Price $1,500.00
Item #1640
This goes well with our Antique Colt SAA Cavalry