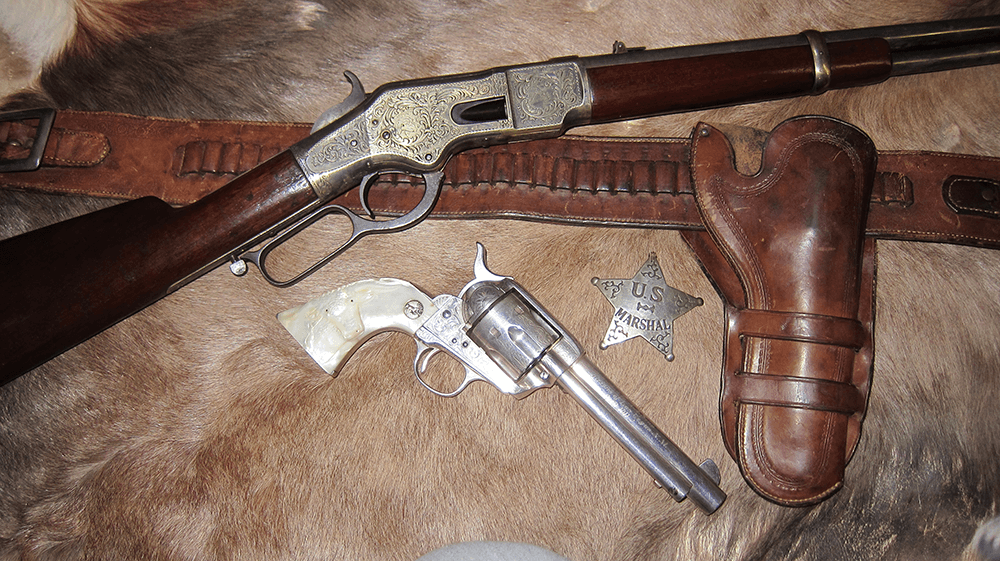 A great piece of antique gun leather is this antique rifle scabbard for an 1866 or 1873 Winchester rifle. 
The scabbard appears to be a vintage 1880's catalog/hardware store purchased scabbard with "55 L" marked at the top of the throat. It is unmarked as to maker showing an attractive, wide rolled, border tooling typical of these vintage catalog scabbards.
It is in excellent overall condition with its original hanging straps. It is nicely sewn with rawhide lacing. There is no damage or losses and the leather is supple with no oiling. The scabbard will accommodate a rifle with up to a 28" barrel.
**24″ barrel 73′ Winchester in gun leather photos is not included with the scabbard.
Clarks Antiques – Antique Gun Leather – Rifle Scabbard – Price $350.00 SALE PENDING
Item #1682
This Scabbard goes well with our Winchester 1873 Rifle 38 Caliber