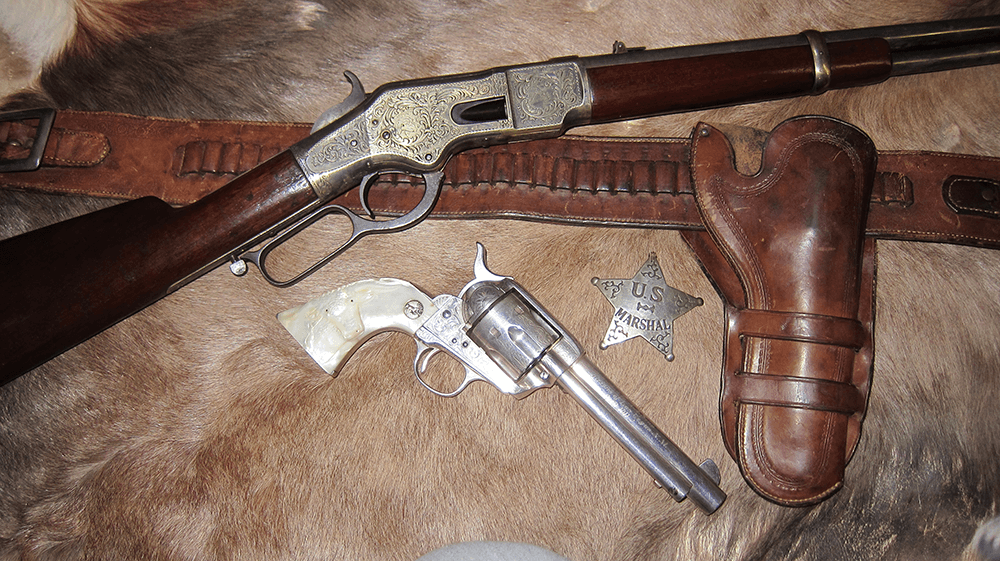 For a Colt Single Action Army 4 3/4″ SAA .32-20
Clark's Antiques antique gun leather offers a variety of holsters and belts to fit most antique firearms.  This very attractive Browning Brothers Rig with both holster and belt marked, "Browning Bros. Co., Ogdon, Utah" is no exception. The holster accommodates a Colt Single Action revolver with a 4 ¾" barrel. The double loop holster is beautifully tooled in period style and decorated with nickel plated brass spots. It's in excellent condition, with no damage and all the original stitching intact.
The spots show verdigris (green crust) around the spots where they are in contact with the leather and the name "KILNER" is inked on the back of the skirt.
The belt is 2" wide x 39" long with 35 bullet loops for 32-20 cartridges. The belt is also in great condition with no damage, showing the same spots and verdigris as the holster. A few cartridge loops have been re-sewn, by hand, as seen from the back of the belt. A few of the loops show some scuffing, nothing serious. The buckle is the original buckle with all its nickel plate showing.
Browning Brothers Sports Shop was in existence from 1880-1926 in Salt Lake and Ogdon. It was one of the largest suppliers of sports goods in the west. Why it closed down in 1926 is unknown.
A great rig from a famous supplier and not often found. It would go great with a high condition 32-20 Colt SAA.​
**Toy gun and .32-20 caliber bullets shown in Clarks Antiques old western gun leather photos not included.
Clarks Antiques – Antique Gun Leather – Browning Brothers Rig for Colt SAA – Price $1,250.00
Item #1541