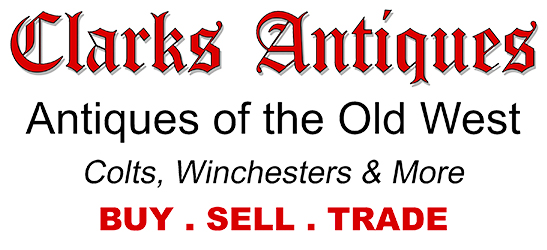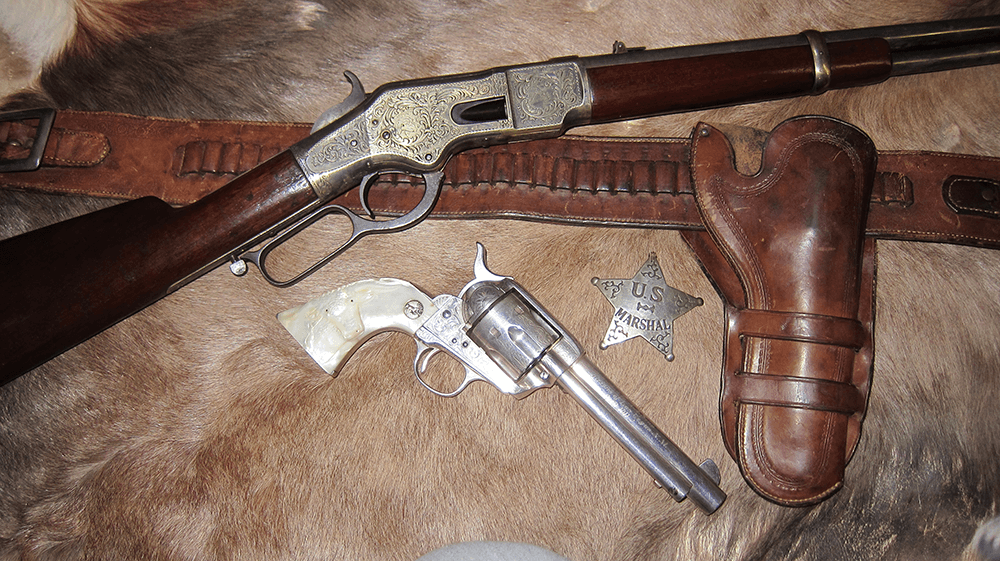 COLORADO MARKED HOLSTER AND BELT RIG
Antique Tritch Marked Rig – Circa 1880
This beautiful and rarely seen antique gun leather Colorado Marked Holster and Belt Rig from Tritch Hardware, Denver, Colorado is a great piece of western memorabilia.  The Tritch marked rig, both belt and holster, are marked in a circle "The Geo Tritch HD WE Co. Denver Colo".
The holster is a double loop with a simple rolled border tooling and fits a Colt 7 ½" SAA or an S & W American Revolver. Both ride high in the holster (see photos).
The top loop is marked "113C" and the bottom loop "6". All original stitching is intact. There are three repairs on the back of the skirt to fix tears at the loops. It's well done and barely discernible from the front. The belt is a money belt with 40, .45 caliber loops. The same rolled border tooling is present as well as the original stitching.
The original buckle is present and retains 30% of its nickel plate. The buckle billet has been re-attached using a period copper rivet and the tongue billet has been relocated during its period of use, also using a period copper rivet. The belt is 32" long (not counting the tongue billet) and 3" wide. The tongue billet shows the same makers mark and also a "99" and "45". There are no rips or tears on the belt and both pieces are still supple and in very good to fine condition considering their age. Neither appears to be oiled in modern times.
Tritch Hardware opened it's business in Denver in 1860 and were suppliers of hardware, stoves – iron & steel, horse shoes, nails, fence wire, firearms, and tack and miners tools.
Toy gun shown in Clarks Antiques antique gun leather photos not included.
Clarks Antiques – Antique Gun Leather – Colorado Marked Holster and Belt Rig – Price $2,500.00
Item #1422