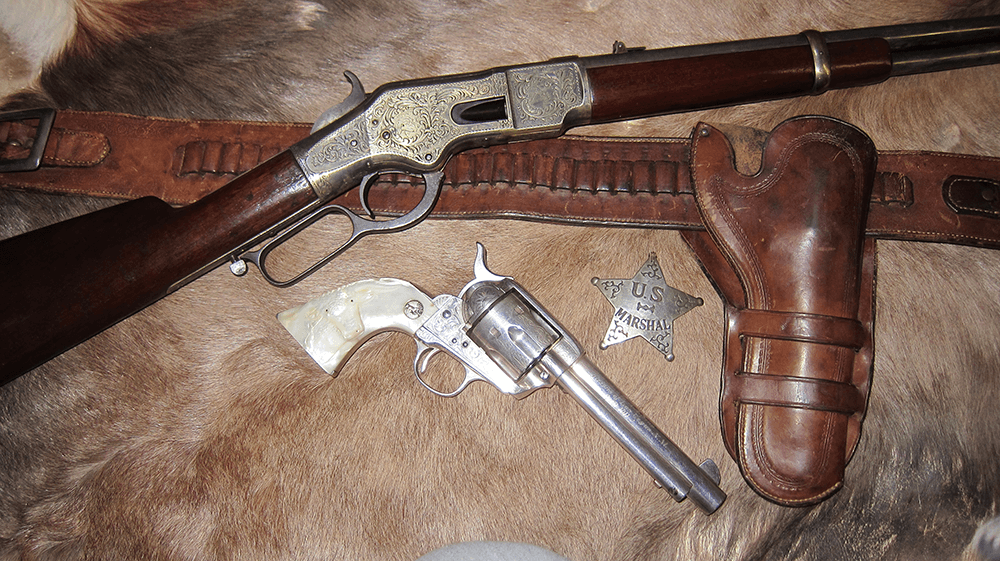 Colorado Rangers Belt & Holster
An original Colorado Rangers Belt & Holster for a Colt 5 ½" SAA, circa late 1890's – 1915. The cartridge belt shows the early "Colo State Department of Safety" marking, prior to the department being re-named to the "Department of Public Safety" in the early 1900's. A reproduction Colorado Ranger badge is attached to the belt.
Colorado Rangers Belt
The belt is 2 ½" wide x 42" long, made from heavy harness leather. It has 40 bullet loops for .44 caliber cartridges. Some of the bullet loops near the buckle end are tight, due to shrinkage and lack of use. Both the tongue and buckle chapes are sewn and riveted in place. All the original stitching is intact and in good condition with the original buckle showing most all of its nickel plating. Although the belt shows wear and use, it is in overall very good condition, with no damage or losses.
Harpham Holster
The holster is "Harpham Brothers, Lincoln, Nebraska", marked. The cartouche on this holster is their earliest mark, used from 1888 to 1900. The holster will accommodate a Colt 5 ½" SAA, is in very good condition showing all its original sewing intact and no damage to the leather. Also, there are two knife slits on the back (skirt) where a belt could be slipped through. Although, this appears not to have ever been used. The cartouche is on the skirt and hidden by the holster itself. The holster matches the belt in era, color, and wear. Both are supple and show no oiling.
Harpham Brothers Saddlery (HB Brand) was established in Lincoln, Nebraska in 1888 and was one of the largest and most profitable makers. In 1888 their sales were just under $100,000 and interestingly enough they obtained all their products from independent contractors and had them add the Harpham Brothers cartouche. Therefore, as jobbers they did no manufacturing. They closed down about 1935.
Colt SAA and 44-40 ammo shown in Clarks Antiques antique gun leather photos not included.
Clarks Antiques – Antique Gun Leather – Colorado Rangers Belt & Holster – Price $1,400.00
Item #1527
If you like this, you may also like our Colorado Ranges Outfit