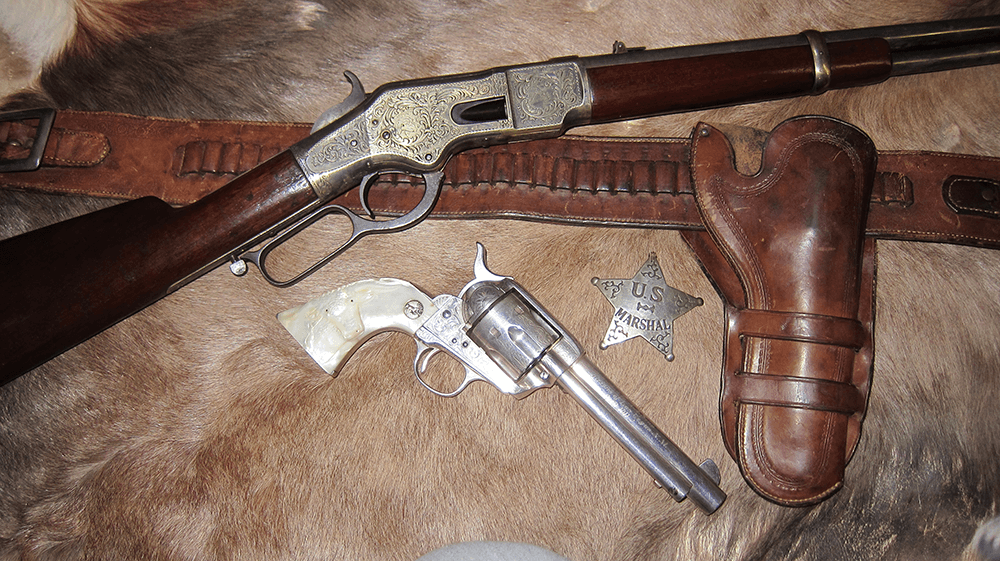 A Colt 4-3/4″ antique rig for a Colt SAA in .32-20 caliber, circa 1890. It features a Bringham Patent belt and double loop holster, both from the latter part of the 19th Century.
The unmarked holster is beautifully period tooled and shows all its original stitching. Period rivets originally held the loops in place, but are now held by rawhide straps, as seen from the back.  Although it shows use and age, it is in very good condition with no damage.
The belt is a typical Bringham Patent belt.  Also in very good condition.  Although, the "Bringham" marking is only partially visible. The belt is 38" long x 2" wide with 35 loops for 32-20 caliber bullets. The original buckle has about 90% of its nickel plate and held on by period rivets. Bringham belts were typically oil finished with basket weave tooling and border stamping in the bullet loop area. Their "patent" was for the way they split the leather and slipped the end pieces inside for riveting.  That being said, the loop strip is woven through cutouts in the belt and secured with rivets on the ends.  
Both holster and belt are a matching dark brown color. This is a good-looking rig with a great holster.
**Toy gun and .32-20 caliber bullets shown in Clarks Antiques old western gun leather photos not included.
Clarks Antiques – Antique Gun Leather – Colt 4-3/4″ Antique Rig – Price $425.00
Item #1453
If you like this, you may like our Western Holster & Belt Rig too