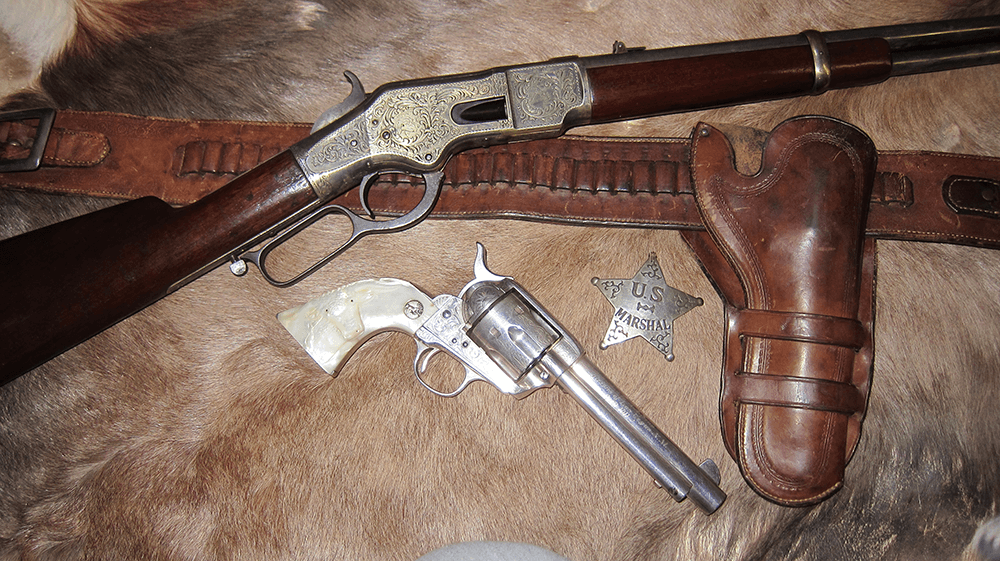 Cowboy Belt and Western Holster
Bunkhouse Gun Rig for a 4 3/4″ SAA
This cowboy belt and western holster is a put-together bunkhouse gun rig from the early turn of the century. Another nice example of a later antique gun leather rig. The holster is a catalog type with a nice rolled border tooling. The original skirt has been removed (probably broke off) with the belt loop sewn to the pouch.
Although, the holster appears to be re-sewn, it was nicely done. Also, there are two holes on the front face of the holster.  Probably for some kind of badge or concho which is now gone.
The belt is "bunkhouse" made from heavy harness leather, 2 ½" wide x 30" long. It shows a stitched cut on the front near the holster. This indicates the leather used was whatever was available at the time. It's fully lined and hand sewn. However, the lining is made up of two separate pieces. The Belt has 35 loops for .44/.45 caliber bullets. In addition, the buckle chape is sewn and riveted with period rivets. Finally, both belt and holster are black in color and have not been oiled.
A neat old hand made belt made for a holster that had already seen a lot of use.
Toy gun and cartridges shown in Clarks Antiques antique gun leather photos not included.
Clarks Antiques – Antique Gun Leather – Cowboy Belt and Western Holster – Price $175.00
Item #1460