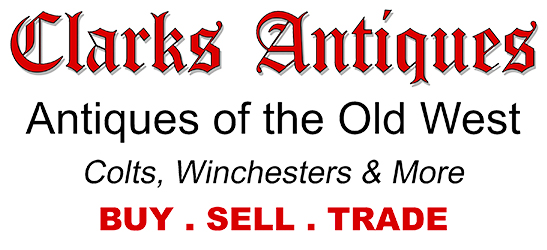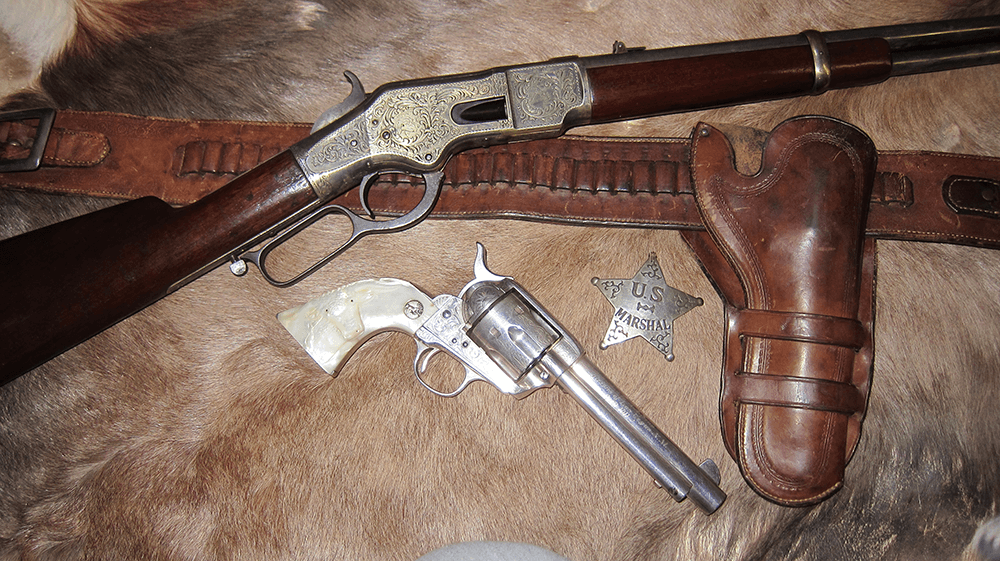 Dragoon Size Western Holster
This is a rarely found single loop cowboy style holster that fits a Colt Dragoon. This dragoon size western holster is an early catalog holster, circa 1880's, showing imbossed tooling and a cowboy on a pony.  Certainly, a rare piece of antique gun leather that fits a variety of antique large frame revolvers. For instance, a Colt SAA fits but goes deep into the pouch.
These holsters were sold by many hardware/mercantile stores in the old west and were quite popular. This one shows some attractive nickel spots (two are flattened near the top). With all the original stitching and the "Cheyenne" toe plug in tact, the holster comes in excellent condition.
As seen from the back, the holster loop was undone to add the nickel spot and then hand re-sewn.  Marked on the back is "408X" (catalog number) and "44 7 1/2".  The photos show both a Dragoon and a SAA in the holster. It has not been oiled.
Toy guns shown in Clarks Antiques antique gun leather photos not included.
Clarks Antiques – Antique Gun Leather – Dragoon Size Western Holster  – Price $900.00
Item #1529