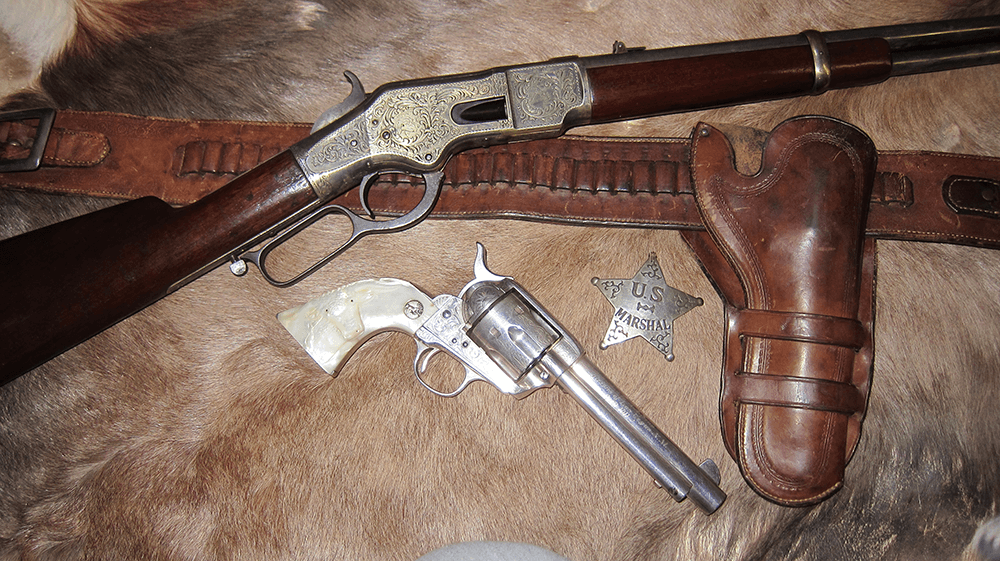 Knox and Tanner Holster Rig
Wyoming Marked Holster and Belt
An extremely desirable early Wyoming Knox and Tanner holster rig.  This is the Holy Grail of Wyoming marked holster & belt rigs. Most ranch hands purchased their holsters & belts from catalog/hardware stores. To have a rig made by a quality saddle maker was an expensive exception.
Knox and Tanner were very well known for their quality saddles and their custom-made gun rigs.  They were in business circa 1900 – 1905. Although, very well known, there are not many of their items around  and are very rarely seen. This is one of those rigs!  Most importantly, both holster and belt are marked "Knox & Tanner – Makers – Rawlins, Wyo".  Certainly, a rare find for an early Wyoming gun rig.
Condition – Knox and Tanner Holster Rig
The holster has a single loop and is made for a Colt SAA with a 4 ¾" barrel. Also, the holster has a simple rolled border tooling and their maker mark is stamped prominently on the front.
The MONEY BELT is 40″ long x 3″ wide with 33 cartridge loops for 44/45 caliber bullets. In addition, It shows the same simple rolled border tooling as the holster and the same maker mark on the tongue billet. Also, the original scalloped buckle is beautifully engraved sterling silver, marked "sterling" on the back.
The condition is excellent overall, showing only slight use. This is the "best quality" professional, saddlery made rig not often seen. Certainly, this rig would go with the finest Colt SAA in your collection.
Colt pistol and 38 WCF cartridges shown in Clarks Antiques antique gun leather photos not included.
Clarks Antiques – Antique Gun Leather – Knox and Tanner Holster Rig – Price $4,500.00
Item #1613
This holster rig pairs well with our Colt SAA Revolver