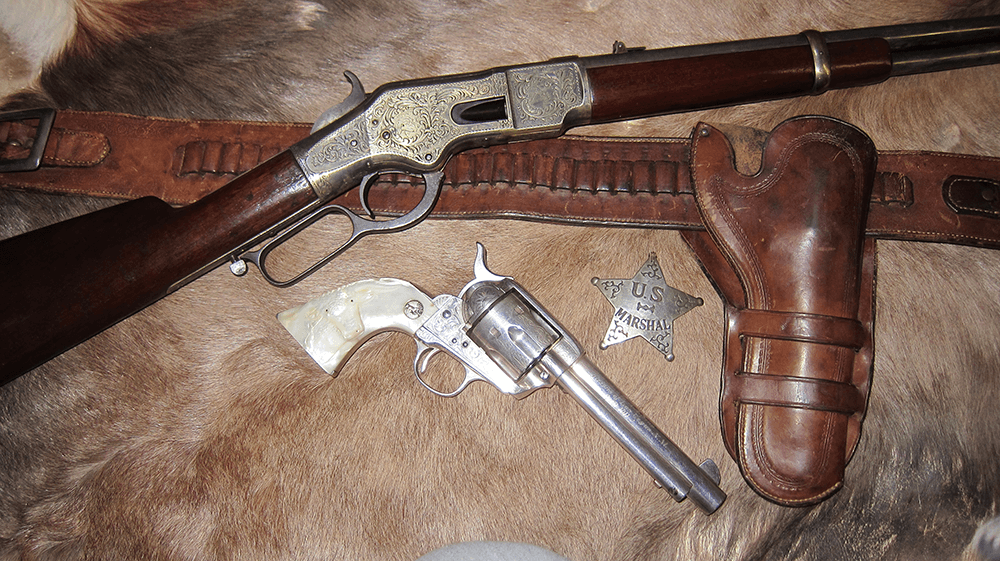 Maker Marked George Lawrence
Maker Marked George Lawrence Rig
The George Lawrence Co. was founded in 1893 in Portland, Oregon. This Lawrence Rig 7-1/2″ SAA shows all the beautiful early patterns that the Lawrence Co. are known for.  Their quality craftsmanship and fine tooling decoration from the early 1940's, along with the Lawrence Marking display well on this rig. A great looking ensemble to show off a high-grade Colt SAA.
Vintage Holster & Belt Rig for Colt 7-1/2″ SAA
The holster and belt accommodate a Colt SAA with a 7 ½" barrel – the holster being so marked. The belt is 2 ½" wide x 43″ long with 30 cartridge loops to fit 44/45 caliber bullets. Both the holster & belt show the Lawrence makers mark with matching tooling.  Also, both have a matching deep brown color. The rig shows light use with no damage or losses. Similarly, all the stitching is original and solid. However, the back of the holster skirt does show some carved in initials which are unseen from the front.  Nevertheless, this rig is in overall EXCELLENT condition.
Toy gun shown in Clarks Antiques antique gun leather photos not included.
Clarks Antiques – Antique Gun Leather – Lawrence Rig 7-1/2″ SAA – Price $1,150.00
Item #1574
If you like this, you may also like our Vintage Lawrence Rig