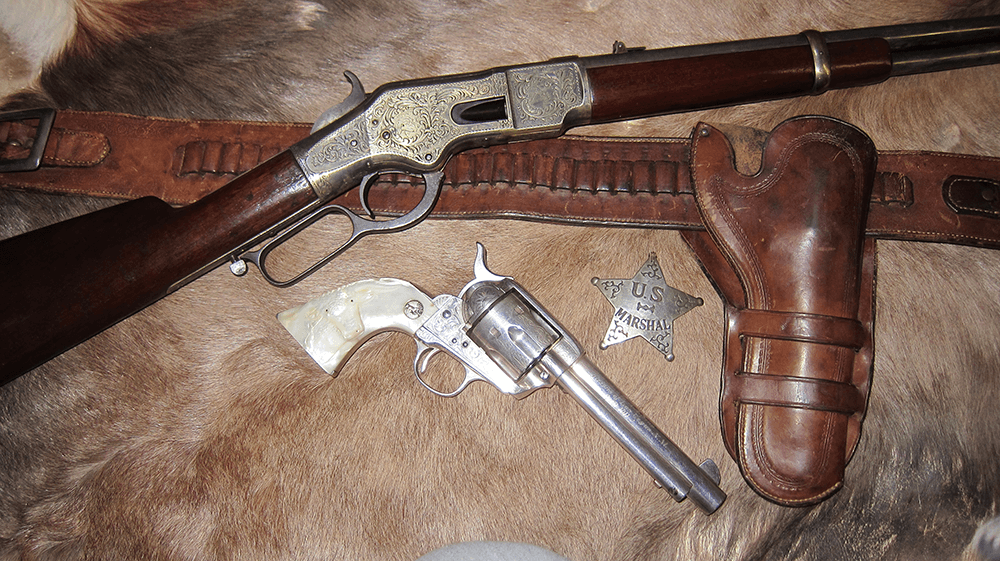 An excellent frontier era prairie belt rig showing little or no use what-so-ever. The holster is beautifully hand tooled in period floral patterns for a Colt 7 ½" 44/45. It's a half skirt holster with a single loop and constructed from heavy pig skin. Also, this beautiful holster is accompanied with a RARE Prairie Belt made for the civilian market.  Both belt and holster show no damage or losses.  In addition, they both retain all their original, and good, stitching.
Prairie Belt – Condition
These belts were only made for a short time and rarely found, and never in this condition. These woven belts were very desirable as they were first used by the Cavalry in the Southwest's hot climate and they did not create verdigris (the green gunk) on cartridges carried in the belt loops.
The belt is nearly identical to the Pattern 1885 .45 Cal. Cavalry Cartridge Belt, 45 loop variation. See "American Military & Naval Belts 1812-1902" by R. Stephen Dorsey, page 271. Although, it is unmarked as to maker, it is almost identical to the Rock Island made military belt pictured in Dorsey's book. It is 43" long x 2 ¼" wide (military belts are 2 ½" wide), 45 loops for .44/45 caliber pistol cartridges. The buckle is a commercial type and attached to the chape as on a normal belt. But, not like the military attachment. Also, the nickel plating on the buckle has turned to an oxidized black color with only some bright color on the backside. Lastly, the back of the belt is marked in ink "W. S. Lake" with another marking completely inked out and illegible.
A great looking rig to accommodate a high condition Colt SAA of the same era.
Gun in photos not included.
Clarks Antiques – Antique Gun Leather – Prairie Belt Rig – Price $2,450.00
Item #1618
This rig pairs well with our Colt Frontier Six Shooter