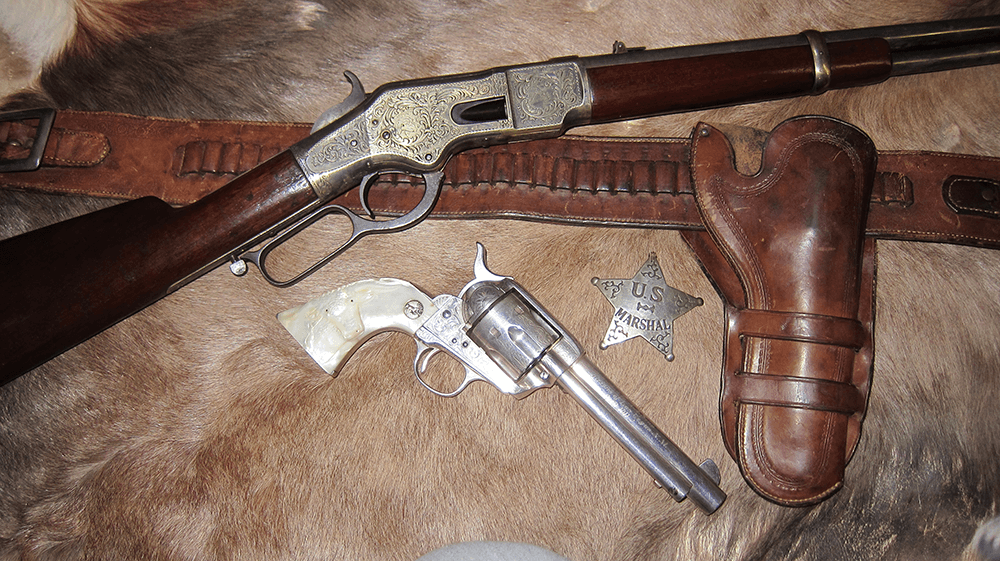 Rancheros' Vistadores Cartridge Belt
This Rancheros' Vistadores cartridge belt shows a hand tooled "RV" (Rancheros' Vistadores) on the front side near the buckle. The antique cartridge belt is 36" long x 2" wide and has fifty (50) .44/.45 caliber bullet loops. It has a sewn on tongue and buckle chape with the original, oxidized, buckle. It is fully lined, been oiled, and is in good overall condition retaining all the original stitching.
Los Rancheros' Vistadores (The Visiting Ranchers) was a social club devoted to ranching and horsemanship. It was started by a group of prominent Santa Barbarians' (California) in 1930. It numbers almost 700 members today and is international in scope. Throughout the years the rides have seen the likes of the rich and famous such as Walt Disney, Clark Gable and Ronald Reagan, to name a few. Every spring, the Rancheros' mount up for their traditional trek through the Santa Ynez Valley for several days, as they have been doing since 1930.
An interesting piece of nostalgia and I wonder who it belonged to. I found the belt many years ago at the Santa Barbara Gun Show.
.44-40 cartridges shown in Clarks Antiques antique gun leather photos not included.
Clarks Antiques – Antique Gun Leather – Rancheros' Vistadores Cartridge Belt – Price $250.00
Item #1463