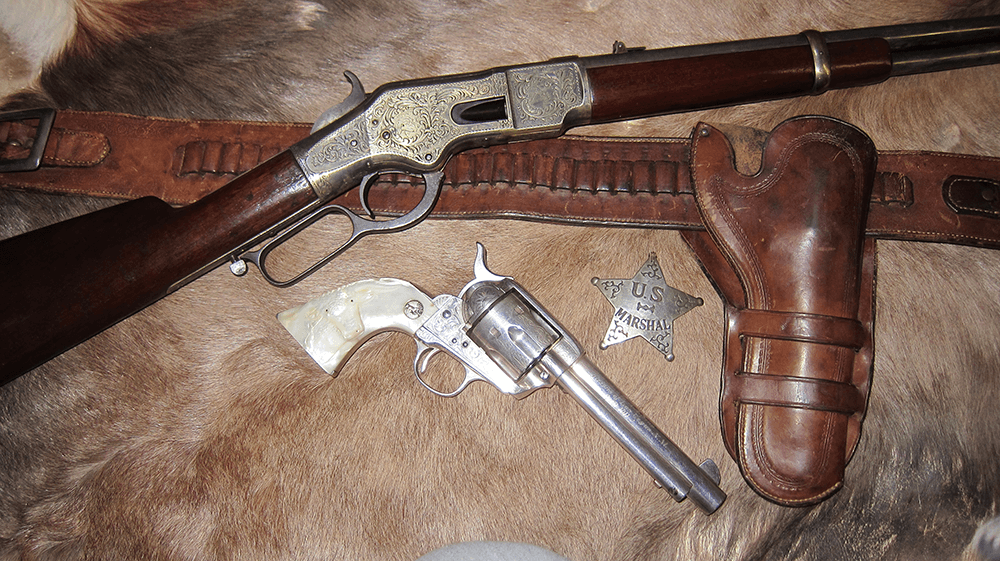 Antique Gun Leather for a Colt SAA 4 3/4″ Barrel
A great piece of antique gun leather is this late Texas Ranger style belt and holster for a Colt SAA with a 4 ¾" barrel. This Texas Ranger style rig is in overall good condition for both pieces, with no damage, tears or flaking. It has not been oiled.
The holster has a large single loop, typical of that era, with basket weave tooling. It is unmarked as to maker and has a dark brown color finish. All the original stitching is good and intact.
A very nice rig from the early part of the 20th Century. Overall condition of both pieces is very good, plus.
The belt is plain, with only single line edge tooling and matches the holster in color. It is 38" long x 1 ¾" wide, also unmarked as to maker with a "34" stamped under the tongue billet. Both tongue billet and buckle chape are attached with period rivets. The buckle has 95% of brass color plating on it.
The belt has 25 cartridge loops for 44/45 caliber bullets. The loops are weaved through cutouts on the belt and are also secured by a period rivet. All the loops are good with the one nearest the holster showing some rubbing. The holster is also held in place with the bullet loop strip.
Toy gun and 44-40 cartridges shown in Clarks Antiques antique gun leather photos not included.
Clarks Antiques – Antique Gun Leather – Texas Ranger Style Rig – Price $350.00 SALE PENDING
Item #1425