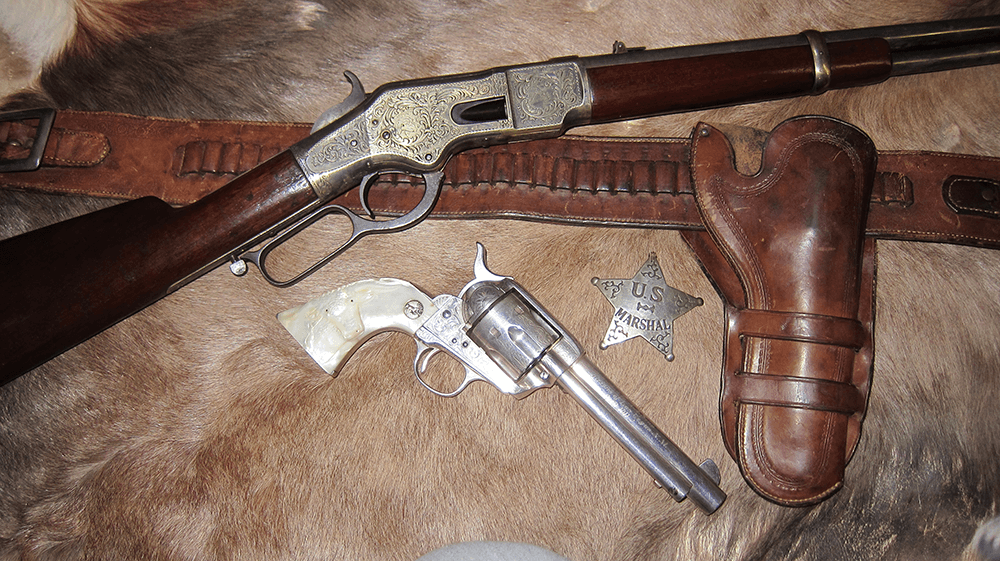 US Cavalry Belt and Cowboy Holster
A pattern 1885 Prairie belt with a commercial, non-regulation, vintage half skirt holster. The informal adaption of non-regulation gun leather was not uncommon in the Indian-fighting Army. This is a beautiful troopers rig in excellent condition. Match this US cavalry belt and cowboy holster with a Colt Cavalry revolver in similar condition would be a great addition to any antique or Military gun room.
Cavalry Belt & Holster
A pattern 1885 regulation .45 caliber cartridge belt, type 1 with 45 cartridge loops. It is accompanied with a commercial single loop half flap holster. Both are circa late 1880's.
This rig is nearly identical to one worn in the photo (below) of a Sixth Cavalry trooper at Fort Union, New Mexico in the 1880's (see "Packing Iron" by Richard Rattenbury, page 31). The pattern 1885 belt is also on page 48 and in "American Military & Navel Belts" by R. Stephen Dorsey, page 271.
The belt has no maker mark but is stamped "6C" for 6th Cavalry (same as the trooper in the photo in "Packing Iron") and "26" probably an inventory number.
The holster is a single loop half flap variety for a Colt SAA with a 7 ½" barrel. Both belt & holster are in excellent lightly used condition. They both show no damage or losses and all the original stitching is in good strong condition. Neither one has been modified.
Cavalry revolver in photos not included.
Clarks Antiques – Antique Gun Leather – US Cavalry Belt and Cowboy Holster – Price $2,450.00 SALE PENDING
Item #1567