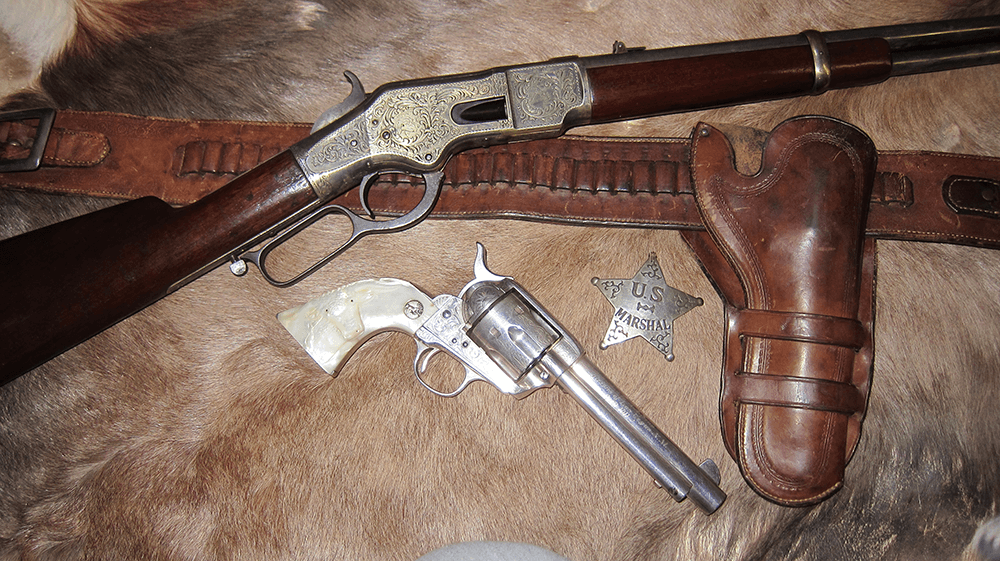 Spanish American War Issue
These 30 caliber government (30-40 Krag) US Mills Web belts were made for the Spanish American War in 1898. This US Cavalry Web belt  has the pattern 1887, "US" marked cartridge belt plate. The belt is 3″ wide and has 50 bullet loops for 30 caliber rifle cartridges.
These belts were also used after the war as civilian cartridge/holster belts for popular 30 caliber rifle (i.e. 30-30) rounds. The back of the buckle shows the normal "Anson Mills" markings and a soldered in place plate with "MGM Studio Property, Culver City, Cal".
The condition of the belt is excellent, showing little or no use. This may be that the studio kept it in their inventory and it was never used. The buckle shows a nice aged patina and is also in excellent condition.
30-30 caliber bullets in Clarks Antiques antique gun leather photos not included.
Clarks Antiques – Antique Gun Leather – US Cavalry Web Belt – Price $300.00
Item #1554
If you like this, you may like our 1896 Military Flap Holster