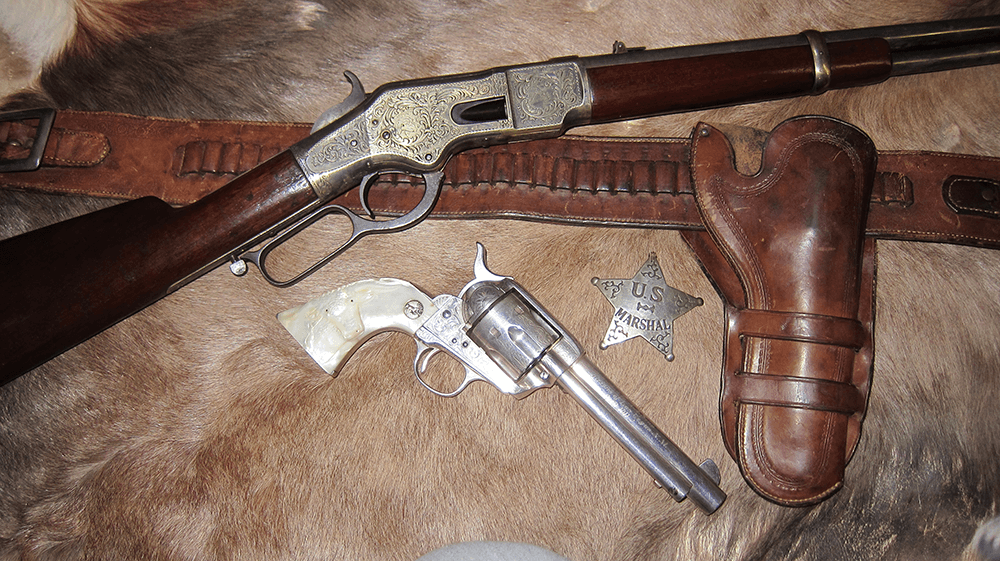 V.L.&A. Holster with Belt
for  5 1/2″ or 4 3/4″ Colt SAA
A very attractive turn-of-the-century V.L.&A. holster with belt.  This rig consists of a marked V.L. & A. Holster and an unmarked cartridge belt. The double loop holster shows the typical rolled border tooling that V.L. & A. used and is nearly identical to a V.L. & A. Holster pictured in "Packing Iron", page 187.
Condition
The holster will accommodate a Colt SAA with a 5 ½" or 4 ¾" barrel. The belt is 42″ long x 3″ wide with 38 cartridge loops for 44/45 caliber bullets. It has a cut-out at the buckle like a money belt would have, but it is not a money belt. It has an attractive border tooling that is somewhat different from the holster. They both show the same color, and little use, and appear to have always been together. Overall condition of both holster and belt is excellent with no losses or damage.  Also, all original stitching intact and strong.
V.L. & A. Chicago
The Von Lengerke & Antoinne (V.L. & A.) partnership was formed in 1891, in Chicago, and lasted into the 1920's. They were in size and scope as Abercombie & Fitch who was their greatest competitor.  They both sold the finest product lines to their upscale clientele. In turn, their high-quality leather goods with the V.L. & A. markings were made by such famous makers as H.H. Heiser and George Lawrence, to name a few. V.L. & A. was eventually bought out by Abercombie & Fitch in the 1930's.
Colt pistol shown in Clarks Antiques antique gun leather photos not included.
Clarks Antiques – Antique Gun Leather – V.L.&A. Holster with Belt – Price $1,250.00
Item #1639
This holster rig pairs well with our V.L.&A. Flap Holster