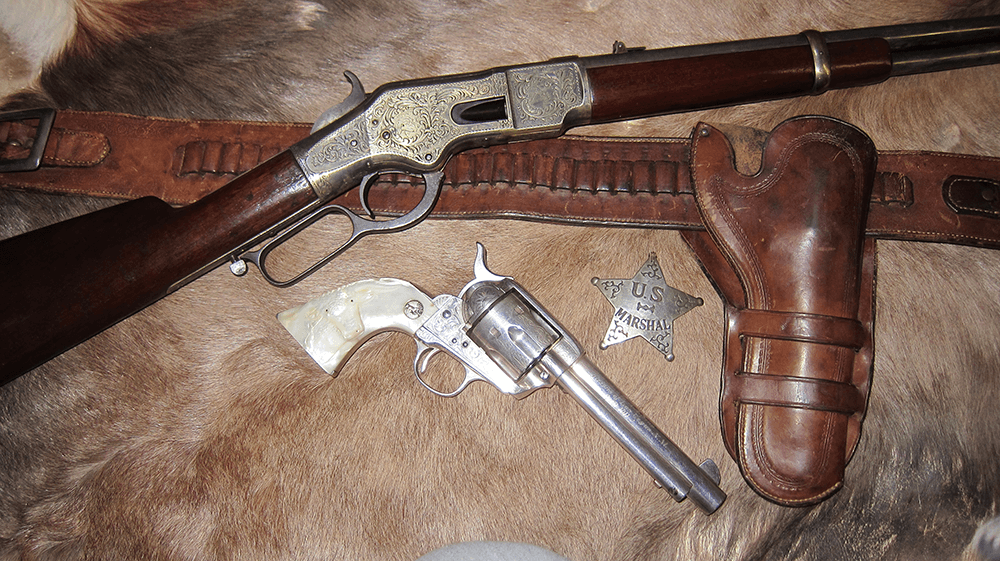 Wild west shows were immensely popular in the late 19th to early 20th century, the same as football is today. Showmanship and fancy accouterments such as this vintage leather show rig along with nickel-plated Colts & Winchester rifles were part of the performer's costumes. This beaded holster & leather cartridge belt appears to be reminiscent of that era and may have been worn by such a showman.
A great rig to display a fancy Colt SAA revolver.
Vintage Holster
The holster is made to accommodate a Colt SAA with a 7 ½" barrel and the cartridge belt for 44 caliber bullets. The holster is suede leather, inside & out, over-laid on a ridged (probably rawhide) base. It is nicely beaded with large beads and fringed suede along the back seam. Although, the holster does have two small areas of bead loss (see photos) with all the rest intact.
Vintage Belt
The leather belt is 2 ½" wide X 48″ long and has 66 bullet loops for .44 caliber cartridges. It has a fancy nickel-plated buckle that shows about 80% of the original nickel with a few dark spots. However, the belt was extended with an additional 10″ piece added to the buckle end but nearly impossible to see.
Both holster and belt have all of their original stitching with no losses. The rig shows use and carry and is in overall very good to fine condition.
Colt SAA shown in Clarks Antiques antique gun leather photos not included.
Clarks Antiques – Antique Gun Leather – Vintage Leather Show Rig – Price $1,200.00
Item #1588
If you like this, you may also like our Spotted Holster & Belt Rig