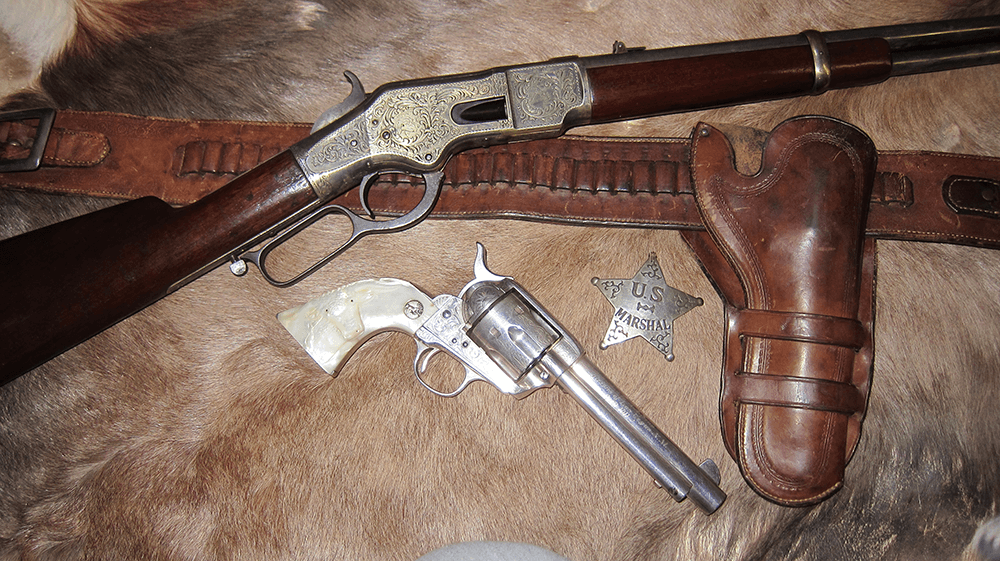 Western Chaps Spotted Batwing
N. Porter, Phoenix, Arizona
Maker Marked Chaps
Nothing reflects the Old West like a vintage, maker marked, pair of western chaps. Chaps were an essential part of a cowboy's dress to protect his legs from moisture, mesquite and other thorny sage brush.
These chaps are maker marked "N. Porter, Phoenix, Ariz." Newton Porter opened his first saddle shop in Taylor, Texas in 1881.  He moved his shop to Phoenix in 1895 where it was family run until its closing in the mid 1960's.
Most certainly, a great display item for a cowboy or gun room.
The chaps are in fine condition, showing use and wear.  But no damage or losses. Furthermore, the chaps are constructed from heavy harness leather and early copper rivets. Similarly, they are nicely spotted along the edges, with no spots missing. All the original stitching is present and good. The waist belt is attractively basket weave tooled with the makers mark in plain sight. Lastly, all the fancy conchos are present as well as all the hooks and clasps on the inside.
Clarks Antiques – Antique Gun Leather – Western Chaps Spotted Batwing – Price $750.00
Item #1564
If you like this, you may also like our Angora Pommel Bags