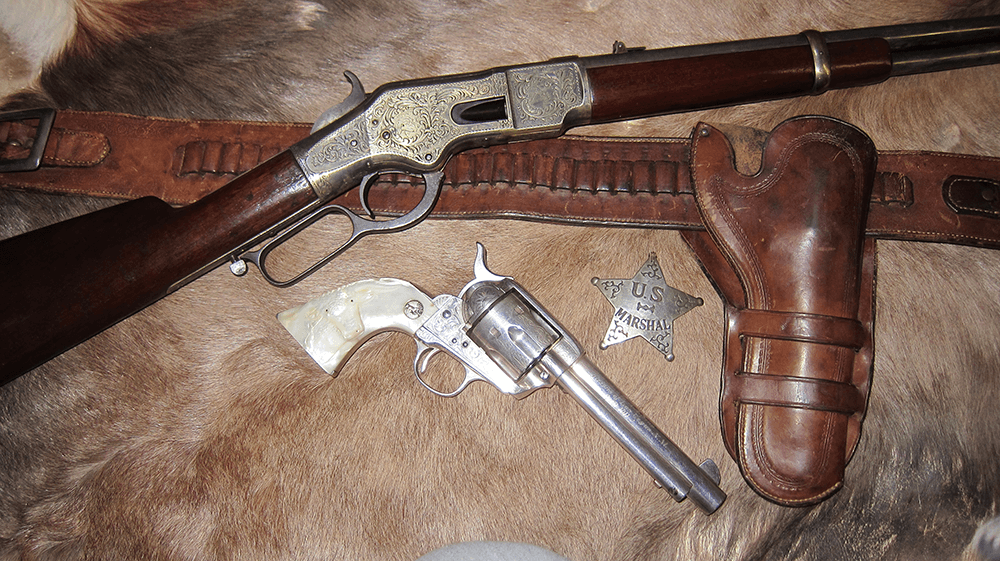 Western Holster and Cartridge Belt
for A Colt Open Top Revolver
Gunleather was an essential element for the practical carry of handguns on the western frontier. This highly attractive western holster and cartridge belt is such a rig. It was made to fit a Colt Open Top revolver, made by Colt in 1871 & 1872.  This early and rare rig, paired with a Colt Open Top will enhance your collection as well as its value.
Colt Open Top Holster & Belt Rig
A rare early rig for a Colt Open Top revolver.  This rig combines a slim jim holster with a narrow width cartridge belt. They are both in overall good solid condition and made circa 1871-1872, the same era as the Open Top revolver. A nice hard to find rig in any condition.
Slim Jim Holster
This western holster has all of its original stitching, original toe plug and belt strap. The belt strap shows wear and a few losses and is attached to the pouch with 3 early copper rivets. The holster has a nice, wide, rolled border tooling that shows lightly on the front and better on the back. The front side of the pouch has two nicely impressed sun flowers. The leather is good and a little stiff with some light crazing, but solid with no losses and good stitching. In addition, there are two small holes at the top for a tie down strap.
Cartridge Belt
The belt is 1 ½" wide x 38″ long with 20 cartridge loops. The loops are period hand sewn to the belt. The cartridge loops have shrunk with time and lack of use, therefore, 44 Henry bullets fit very tightly. The original roller buckle is retained showing dark oxidation. The tongue end of the belt looks to have had an extension sewn to it at one time but is now gone.
This rig will also accommodate an 1861 Navy Conversion in .38 caliber.
**Open Top Revolver shown in photos not included.
Clarks Antiques – Antique Gun Leather – Western Holster & Cartridge Belt – Price $1,250.00
Item #1566