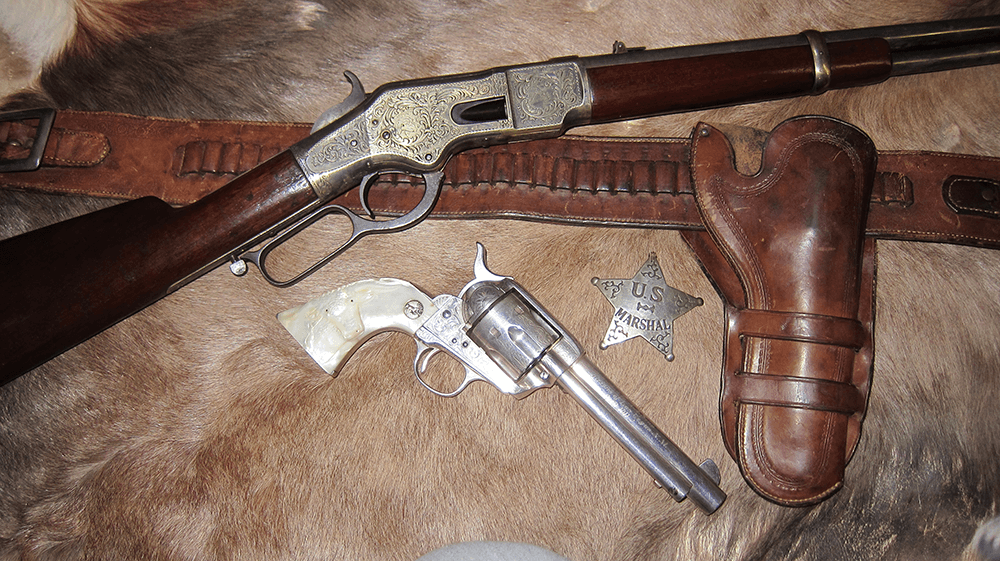 Western Holster Double Loop
Western Gun Leather for a Colt SAA 4 3/4″
A very attractive piece of western gun leather from the latter part of the 19th century. This western holster double loop is a catalog type, in very good condition, with six (6) cartridge loops on the holster loops. In addition, the bullet loops accommodate 41 Colt or 38 Colt caliber cartridges. The holster retains all its original stitching with no tears or damage to the leather. It shows a lightly impressed border tooling on the pouch and is nicely decorated with period brass spots.
The belt is from the 1880's era and accommodates a hand made and decorated buckle of brass and sterling silver. The belt was very nicely decorated with brass spots and handmade Conchos. Also, the Conchos were hand stamped the same as the buckle and the brass spots added to the belt are nearly identical to the existing spots on the holster. If only it could talk to us! Its 2" wide x 47" long and has no cartridge loops. It's in very good condition, showing light use consistent to the holster, with no damage to the leather. It's a handmade one-of-a-kind piece.
.41 caliber cartridges and toy gun shown in Clarks Antiques antique gun leather photos not included.
Clarks Antiques – Antique Gun Leather – Western Holster Double Loop – Price $1,650.00
Item #1517