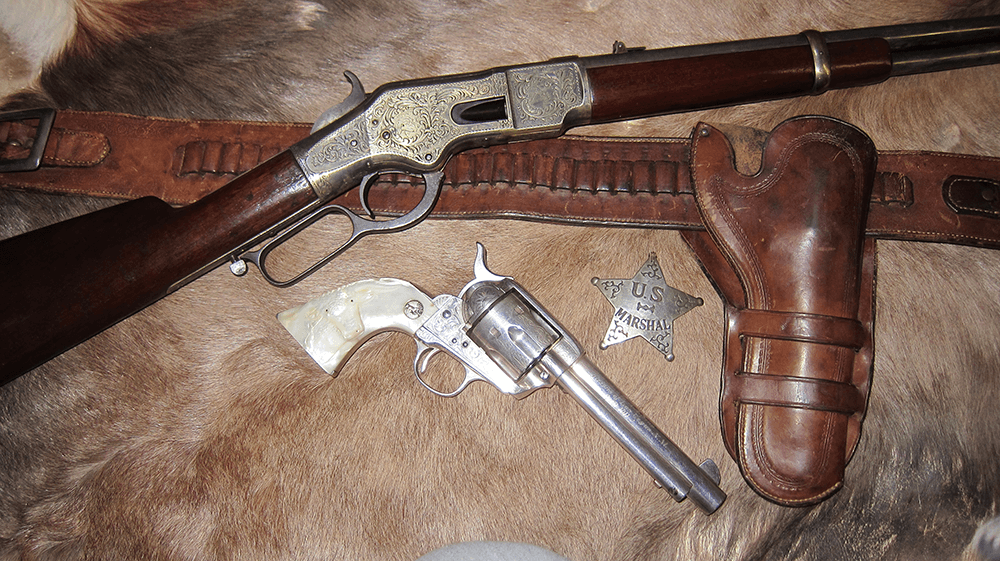 Wyeth Hardware Marked Rig
A rarely found Wyeth Hardware marked rig consisting of a cartridge belt and holster. The holster will accommodate a Colt Single Action Army revolver with a 4 ¾" or 5 ½" barrel.
THE HOLSTER
The nicely tooled single loop holster is "Wyeth" marked, showing a partial portion of their trade mark shield. The marking is under the pouch on the lower part of the skirt. The holster is beautifully tooled in period floral designs with a period added concho attached to the loop with rawhide. The holster pouch retains all the original rawhide stitching. There is a hole punched at the top of the pouch for a tie-down thong, now gone.
THE BELT
The belt is 3″ wide x 40" long MONEY BELT with sewn on tongue and buckle chapes. The belt has 38 bullet loops for .41 Colt – .44 caliber cartridges. The loops have shrunk in time from non-use so only some will take a .44 caliber cartridge. The photos show .41 Colt cartridges in the loops, as to not put a strain on the stitching. All the original stitching is present and solid for the chapes, money belt, and cartridge loops. The tongue is stamped "WYETH HDW & MFG CO., St Joseph MO".
The original buckle shows all its nickel finish and the buckle chape is marked "942 5". There are 6 holes punched near the tongue, probably to tie the holster in place. There is also a cut just back of the buckle chape, where the wearer could shove the tongue into it so it wouldn't flap around (see photo).
Wyeth Hardware History
Wyeth Hardware & Manufacturing Co. was established in St Joseph, MO in the 1840's. They were a catalog store and continued in business well after the turn of the century. They made the mochilas (saddle packs for mail) for the Pony Express eastern divisions in 1860. Buffalo Bill Cody owned a WYETH HDW cartridge money belt almost identical to this one. Its part of the Julia Cody Goodman Collection and is pictured in "Buffalo Bills Wild West", (page 11) by R.L. Wilson and Greg Martin.
A nice rig in fine condition from a great maker in St Joe, the gateway to the western frontier.
Clarks Antiques – Antique Gun Leather – Wyeth Hardware Marked Rig – Price $2,500.00
Item #1688
If you like this you may like our J.S. Collins Rig