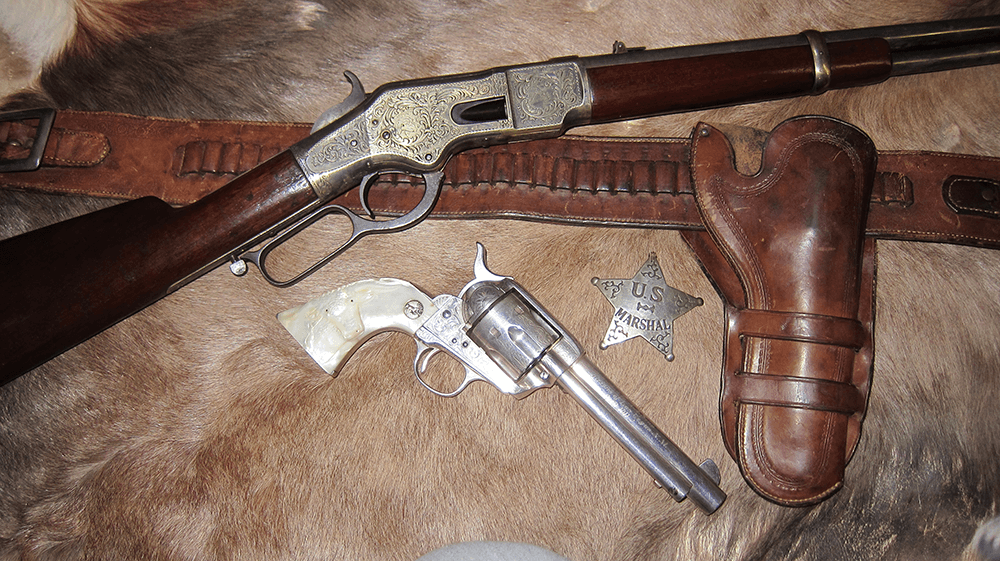 1877 Colt Thunderer & Rig
This old deputy Sheriff's outfit consist of an 1877 Colt Thunderer and rig.
The Colt Double Action
The Colt Double Action, .41 caliber revolver, is blue finish with a 6″ barrel and hard rubber grips. All the features are confirmed by a Colt Factory letter – included. The revolver was shipped to Colt's Patent Fire-Arms Mfg. Company, San Francisco, November 23, 1899.
The Holster
The holster is a double loop catalog type with catalog markings on the lower skirt – there are no maker markings. There is a small "Deputy Sheriff" marked badge riveted to the upper loop. The belt is a .41 caliber civilian web belt with the "dog head" logo plate, marked "Anson Mills" on the back.
Colt Thunderer & Rig Condition
The entire outfit is in very good condition showing use and carry. The gun shows about 30% thinning blue, with the mechanics and bore good – single and double action working.  In addition, the rubber grips are very good and fit perfectly. Although, the holster and belt show use and wear, all parts are intact. The holster has good stitching with a period wire repair at the top loop. The belt is a 2″ wide web belt, made and sold to the civilian market. It has 30 bullet loops to accommodate .41 Colt caliber cartridges. The belt shows soiling from use and the brass dog head plate shows a nice mellow patina.
An interesting old Deputy Sheriff's outfit. Though we have no history of who or where this outfit was used, it is way cool and shows a lot of character.
**.41 caliber bullets in photos not included.
Clarks Antiques Firearms – 1877 Colt Thunderer & Rig – Price $2,275.00
Item #1686
** FFL or C&R required for shipping.  Cannot ship to California
If you like this you may like our Colt Pocket Police Conversion