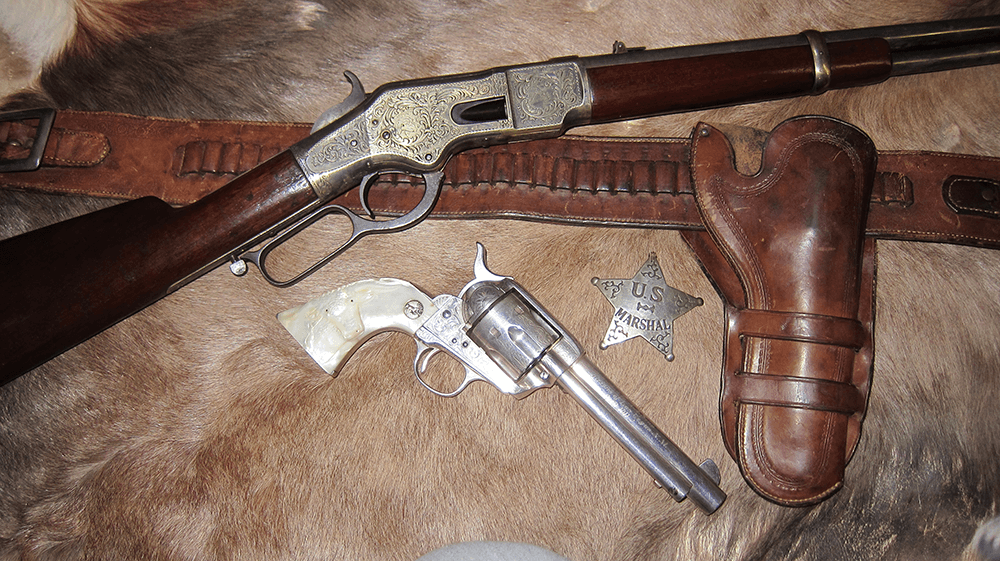 If you are looking for an antique Colt 45 revolver in excellent condition, then look no further.
A very attractive Texas shipped antique Colt 45, serial #159559, made in 1895. This SAA shows the "star" stamp on the trigger guard, indicating return to the Colt factory. A factory letter, included, indicates the original configuration was .38/40. 4 ¾", blue, rubber, and shipped to Dunlay & Geisler, Houston, Texas, January 11, 1895 – 2 guns in shipment. Colt shipping records rarely show any "return to the factory" changes or repairs.
Colt 45 Condition
The gun is in overall excellent, re-finished condition, showing use and carry since it's factory overhaul. All the markings are sharp and correct. The mechanics are excellent and the cylinder locks up tight.  In addition, the bore is good, showing fine pitting from black powder use. However, the grips show some wear.  Although, no damage and fit perfectly with "R.M.S. Valley Okla 1914" scratched on the inside of the right grip. Also, about 98% of the re-nickel is retained with two cylinder flutes showing minor light pitting.
Mechanics – Colt Single Action
The gun was completely refinished with a full nickel finish, showing a re-finish number (or bin number) "607 B" on the inside of the ram rod housing. It shows a concave firing pin, introduced in 1905, indicating the return to Colt was sometime after that date for re-work. It was re-chambered from 38 WCF to .45 Colt using a pre-1912 barrel. Although the cylinder is unmarked, it looks to be the original cylinder, re-bored, as it has the correct fluted corners that went away in 1904.  Also, the barrel has bin number "607 NN" stamped on it, under the ram rod housing. The diagonal (black powder) base pin hole has been plugged and the gun re-fitted with a transverse pin. This was introduced in 1896, after serial number 164100.
Other parts with the re-finish number are as follows; "607 NN" on the trigger guard (under the grips); "607" on the backstrap (under the grips); "607 N" on the frame (under the trigger guard); and "607" on the loading gate. Also, the frame and loading gate show the original assembly number, "702" in the usual places. All the serial numbers match, also in the usual places. Furthermore, the hard rubber grips are marked "9559" on the inside of the left grip.
This is a great looking gun, showing a complete Colt factory re-finish, sometime between 1905 – 1912, along with the period up-dated changes. After it was shipped to Houston and subsequently re-furbished, it made its way to Pauls Valley, Oklahoma in 1914.
Clarks Antiques Firearms – Antique Colt 45 – Price $4,850.00
Item #1654
This Antique Colt pairs well with our V.L.&A. Holster and Belt