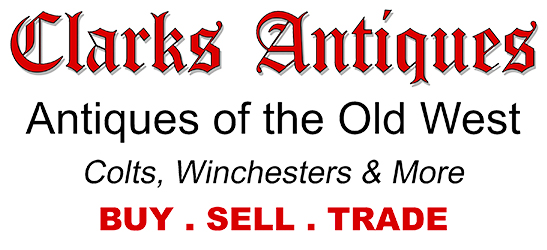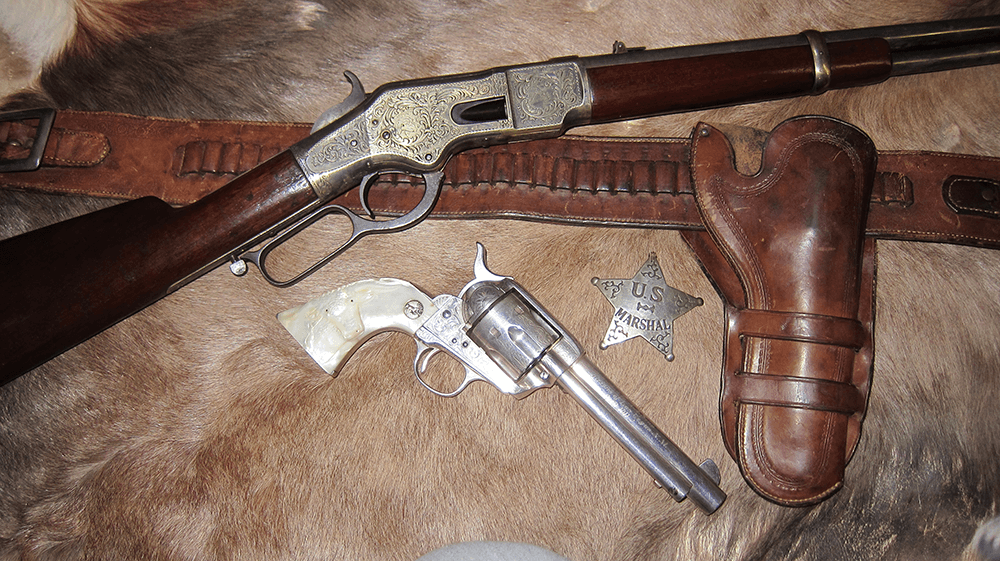 Antique Hand Guns / Revolvers
ANTIQUE COLT SAA REVOLVER
Colt Single Action Army U.S. Cavalry Revolver- Made in 1876
This Antique Colt SAA Revolver is a U.S. cavalry revolver, serial #31951, .45 cal., 7 ½" barrel, nickel finish, carved pearl eagle head grips.  This is an extremely rare U.S. Martial Colt single action army (U.S. Army 1876-1877 contract) that was pressed into civilian usage.
This Colt single action army is in overall very good to fine condition showing about 95% old nickel applied over the original military finish with the ejector housing left the original military blue. The carved pearl grips were most likely added at the same time, replacing the original inspected wood grips. The bore is very good+, the markings sharp, including all inspection and proof marks. The "U.S." on the frame has been obliterated but is still faintly visible. All serial numbers match. The gun was likely "liberated" from the U.S. Cavalry at which time the nickel plating and pearl grips were added. All parts are original with the exception of the cylinder pin screw. All the screws are good with undamaged slots and are also the original military blue finish. The grips are old, beautifully accomplished, carved pearl and fit perfectly.
The bottom of the frame is marked "LD" for Louis Draper (assistant to inspector John T. Cleveland) and is identical to the one pictured in "A Study of the Colt SAA", by Graham, Kopec and Moore, page 219. The underside of the barrel is marked "JTC", for John T. Cleveland, and "P". All serial numbers match with 1951 on the barrel, under the ejector housing, and on the cylinder. "JTC" and "P" are also on the cylinder. A Colt letter is included indicating delivery to the U.S. Government Inspector at the Colt plant, Nov. 11, 1876.
This Antique Colt SAA Revolver was formerly in the Harold Smith collection and was on display in his Nevada casino. It was also pictured prominently in the book "Famous Guns of the Harold's Club Collection", page 83, and copyright 1962. A copy of this book is also included. Several guns with these exact eagle grips have been attributed to ownership by Leo Carillo, famous movie star and western personality. It is known that Carillo donated a gun at one time to the Harold's Club Museum – may be worth researching.  I have seen grips just like these on several other early first generation Colts.  One was on serial #180260, made in 1898, that was owned and carried by the legendary Texas Ranger Frank Hamer who tracked down and killed Bonnie & Clyde.  That gun is pictured in Flayderman's Guide, 9th edition, page 441 and also in Larry Wilson's book "The Peacemakers", page 202.
A rare opportunity to acquire hard to find U.S. Contract SAA with an interesting and colorful historical past.
Clarks Antiques Firearms – Antique Colt SAA Revolver – Price $11,500.00
Item #1044