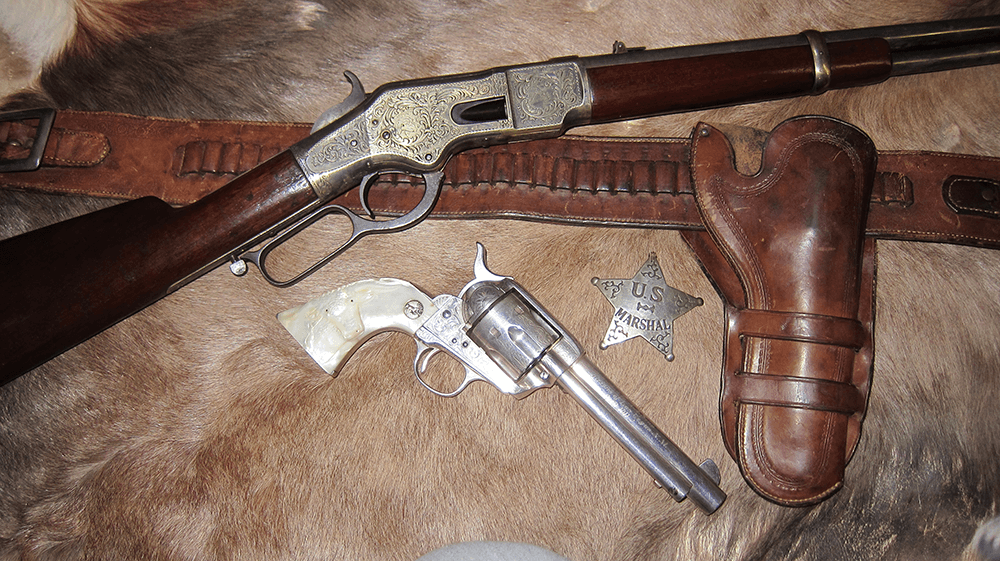 A very good antique Colt Thunderer 1877 double action .41 caliber revolver. The gun has a 6″ barrel, mother of pearl grips, and the etched panel on the barrel.
Colt Thunderer Condition
The etched panel is light. But the "D.A. 41" is very clear.  About 10% of bright blue is showing in protected areas, the rest has gone to a gun metal grey. Also, the frame shows case hardening with some nice color still visible. The action works perfectly and the bore is very good. In addition, the two-line barrel address and three-line patent dates are sharp and clear. Serial #47XXX matches on all parts. The front sight is the small early type and has not been filed. The two-piece pearl grips fit well.  However, they show two nicks but no losses and are of the period. Most likely installed by Hartley & Graham. The screws are all good with a few showing some minor knackering – nothing serious.
A very nice representative 1877 in a desirable configuration. A factory letter is included verifying all the features, other than the type of stocks "not listed".
Clarks Antiques Firearms – Antique Colt Thunderer – Price $2,650.00
Item #1624