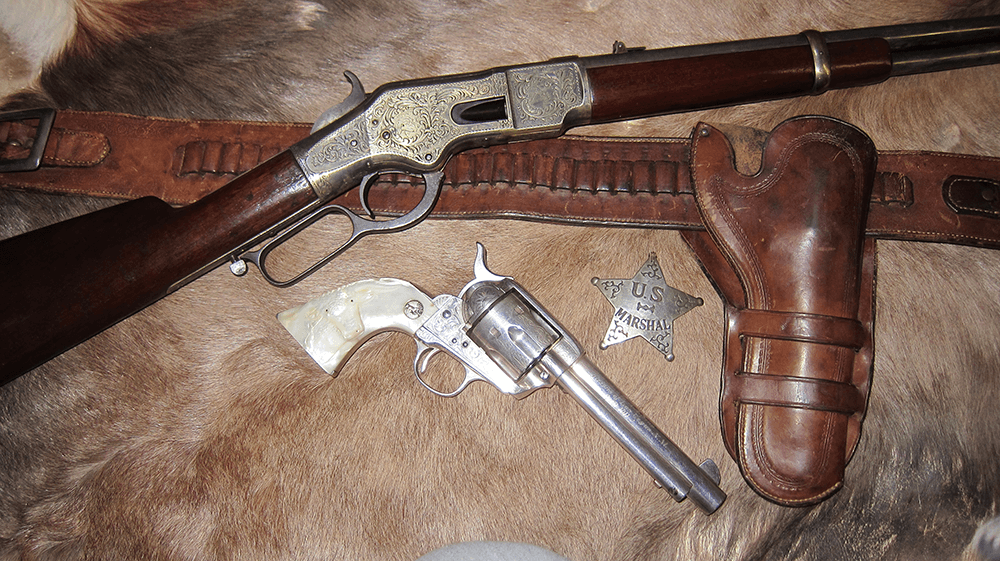 A very fine, early Colt 1877 DA Lightning, made in 1879. The revolver is .38 caliber with a 3 ½" barrel, sheriffs' model, nickel finish, with an inscribed name on the cylinder. A letter from Colt Archives indicates that the original record for this revolver was lost or destroyed many years ago.
The nickel finish is original to the gun and was either applied by the factory or dealer. The inscription "LES CARROLL' was professionally done prior to the nickel plating.
Condition – Colt 1877 D.A. Lightning
It is in overall fine original condition, showing approx. 90% of its nickel finish and iridescent blue on the back of the hammer and trigger. The rubber grips fit perfectly and are numbered to the gun. Although, they show use and wear to the checkering, they are in otherwise fine condition. The barrel shows a fully visible "Colt D.A. 38" etched panel. The hammer and trigger show muted case colors with bright iridescence blue on the back surfaces. Also, all the markings are sharp and clear and all the serial numbers match. The gun functions perfectly in both double and single action and the bore is excellent. The screw slots are all good and the gun appears to be 100% original.
A fine example of an early Colt Lightning in great condition.
Clarks Antiques Firearms – Colt 1877 D.A. Lightning – Price $1,500.00
Item #1665