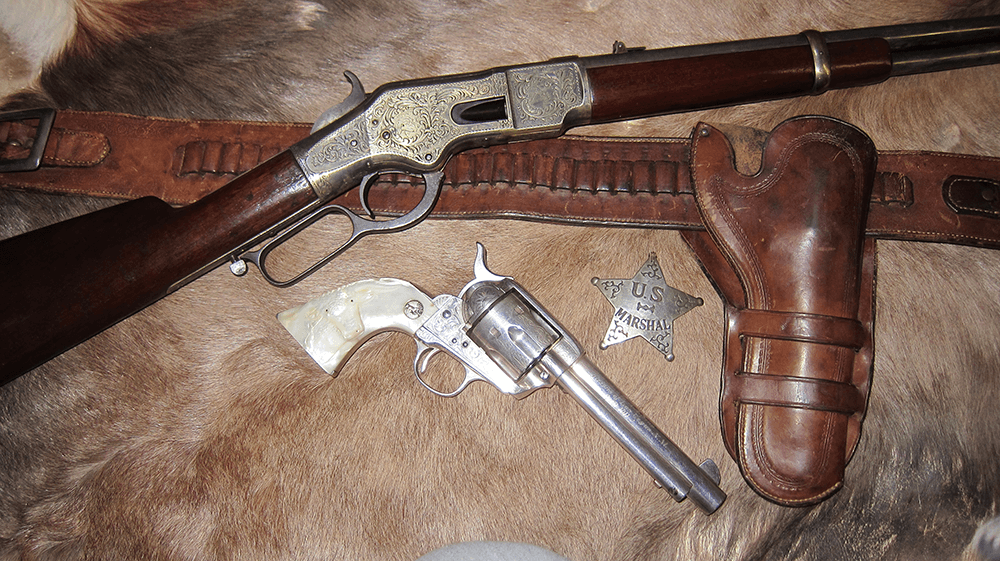 Colt 3rd Gen Commemorative
This Colt 3rd Gen Commemorative single action revolver was originally supposed to be part of a set commemorating the Colt single action and the Winchester rifle. Winchester cased the two guns in a walnut presentation box, known as the Winchester/Colt Commemorative pair. Colt sent their revolvers to Winchester for this purpose, as the factory letter for this gun (included) states: Shipped to: U.S. Repeating Arms Co., New Haven, Conn. Apparently this one was never paired up with a rifle and was sold separately. It comes in its original box with end label marked to this gun. The box is in very good condition with all its original paperwork inside.
The gun is a beautiful work of art, showing fine etching and gold leaf filling. The gun is made in the old style with a black powder frame, doughnut ejector head, early 3-line patent dates and italicized barrel address. There is a small "44" on the bottom of the barrel indicating the caliber (.44-40) – same as the early 1st generation SAA's. It shows a beautiful deep blue finish and a case-hardened frame. The stocks are 2-piece walnut, showing a screw on one side only. "Col. Sam Colt" is gold inlaid on the backstrap. The cylinder is un-fluted for more etching/gold trimming surface area.
The gun is new-in-the-box and shows no use what-so-ever.  A beautiful Colt Single Action in as-new, pristine condition.
FFL required for shipping. FOR DOMESTIC SALE ONLY.
**Can't ship to California
Clarks Antiques Firearms – Colt 3rd Gen Commemorative – Price $1,950.00  
Item #1036
If you like this item, you may be interested in our Colt SAA Buntline 3rd Gen