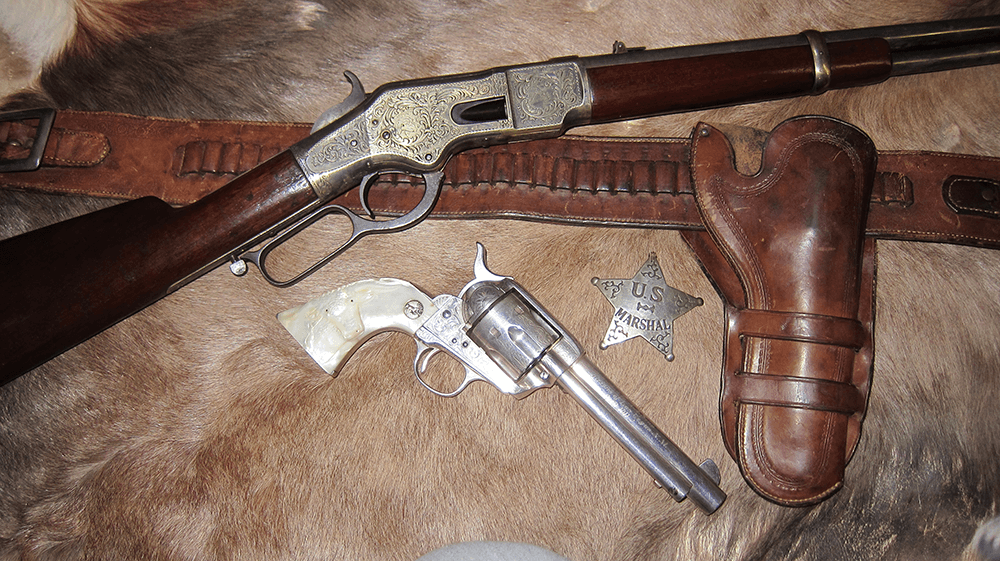 Colt Richardson Conversion
This is a Colt Richardson Conversion, .44 Colt caliber, serial #164682, circa 1875.
Colt Richardson Conversion Condition
THE REVOLVER shows approximately 75% of its original nickel finish – not a re-nickel. The brass trigger guard retains better than 90% of its original silver plating. Also, the one-piece ivory grips appear to be original to the gun showing a mellow aged patina. In addition, they fit as they should, just showing some slight, but consistent, shrinkage. The grips show no damage or losses, just the typical age induced cracklature at the bottom. All the serial numbers match, as well as the wedge number. The cylinder scene is light but mostly visible. Overall, the mechanics are excellent as well as the bore. All the markings are sharp and clear and the gun appears to be 100% correct in all aspects.
Holster
The gun comes with an excellent rig of the same era. The holster is correct for the gun, accommodating the 8″ barrel length. It's a "Slim Jim" design showing beautiful tooling of floral motifs typical of that era. All the stitching appears to be original, solid and strong. The leather shows no damage or losses and is still supple. Also, the holster belt loop shows a period repair of the loop itself, using period copper rivets. The gun fits it perfectly. 
Belt
THE BELT is a MONEY BELT, 2 ½" wide x 40" long. It is marked "172 44C" on the tongue. There are no maker marks. It has 42 cartridge loops for .44 caliber bullets. It is also in excellent condition showing no damage or losses. The bullet loops were re-sewn a long time ago and are still solid and strong. The buckle is original to the belt showing an oxidized patina. 
A great rig considering its almost 150 years old.
** .44 caliber bullets in photos not included.
*Will not ship guns or any items with ivory to California, Washington State, New York, New Jersey, Oregon or Hawaii because these states have a total ban on ALL ivory sales – new or antique.
Clarks Antiques Firearms – Colt Richardson Conversion– Price $6,500.00
Item #1685
If you like this you may like our Colt Open Top Revolver