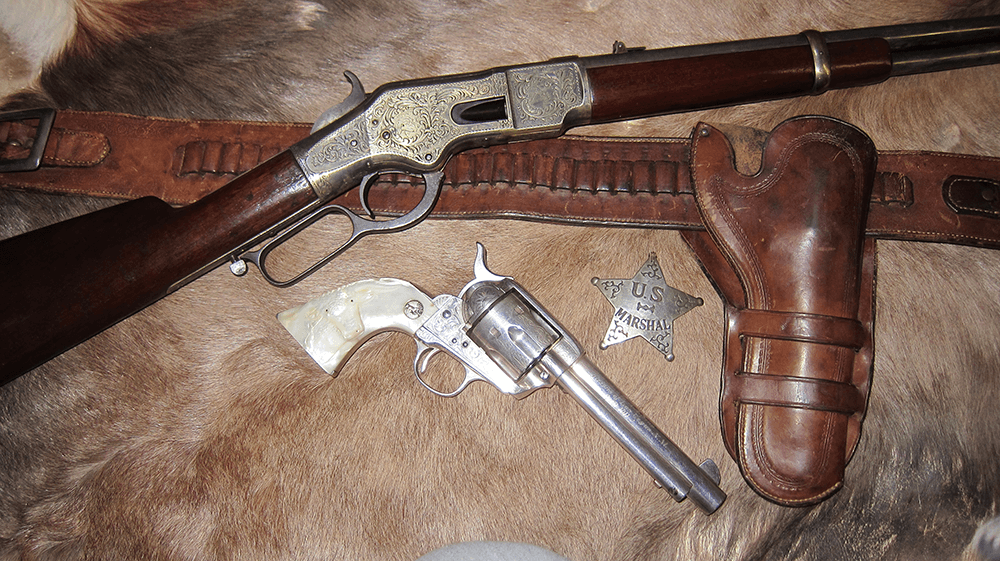 Colt Single Action Army, Made 1898
A beautiful antique Colt Single Action in overall excellent condition. This Colt SAA 4 3/4 revolver shows approx. 80% of bright original blue and case colors. Excellent hard rubber grips with the matching serial number marked inside. Mechanics are excellent, as well as the bore and the serial numbers all match. This gun is 100% original. A factory letter confirms all features. Including, the gun being shipped to "Lee, Clark, Andreesen Hardware Co., Omaha, Nebraska, May 17, 1898.
Scratched inside the grip is "FLOYD. R", "ONTARIO CAL" & "FVR". Somewhere along the way this gun made its way to California, either with Floyd R or to him. The guns condition indicates it saw little use or carry and was most likely in Floyd's possession for many years or until it was obtained by someone else as a collectable and well cared for. We will never know unless Floyds identity in Ontario, California can be discovered. Until then this is still a beautiful gun, considering its 120 years old.
Ontario, California was founded by the Chaffey brothers, George & William, who purchased the land in 1881. They named their town "Ontario" in honor of the province of Ontario, Canada, where they were born. Ontario, Calif. was incorporated as a city in 1891. In 1898 Ontario was a 2-day wagon ride from Los Angeles and both cities were still considered frontier towns.
Clarks Antiques Firearms – Colt  SAA 4 3/4″ 32-20 – Price $4,900.00 SALE PENDING
Item #1551
This Colt SAA 4 3/4″ pairs well with our Browning Brothers Rig