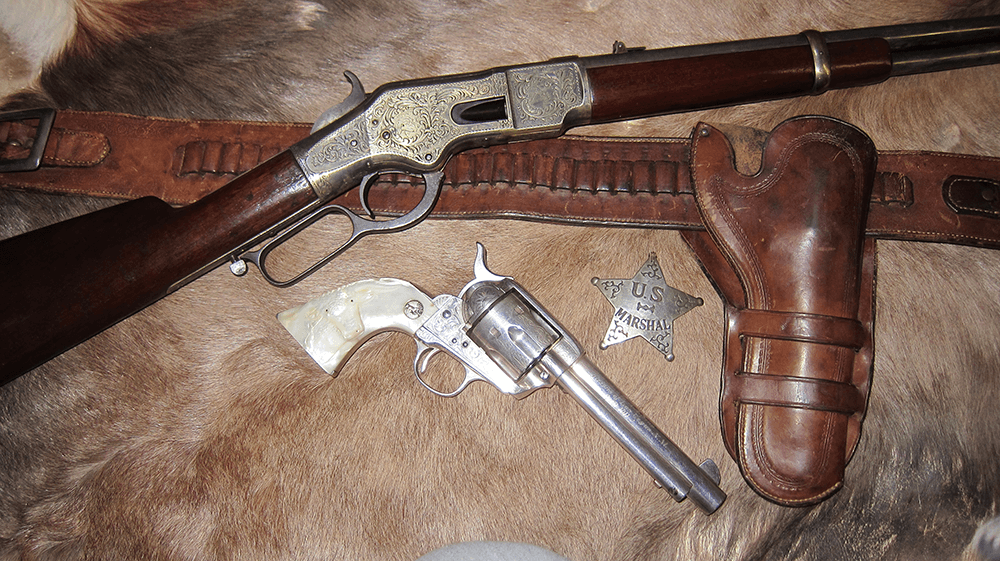 This is a great antique Colt SAA 41 4-3/4″ in a desirable configuration.  The Colt SAA .41, 4-3/4″ barrel was shipped to Hibbard, Spencer, Bartlett & Company, Chicago, Illinois on October 29, 1890, per factory letter (included). 
Colt SAA Condition
The Colt has a blue finish, stocks not listed, serial number 136XXX. The gun shows all its original parts (and screws) with original hard rubber "eagle" grips. This Colt SAA shows muted blue finish on barrel, ejector housing, and cylinder flutes.  Along with muted case colors on frame & hammer. It is in nice overall very good condition showing no pitting.
The original eagle grips show wear, more on the right grip from being carried in a R.H. holster. The grips fit perfectly.  Although, they have some "notches" at the top of both grips, indicating ???.  In addition, all the serial numbers match and all the other markings are sharp and clear, including the 2-line barrel address. The mechanics are good and the bore is very good.  Also, the front sight is its' full height and has not been filed.
These .41 Colt caliber single action revolvers could also be fitted with a .38-40 (38 WCF) cylinder to fire that caliber as well. The 38 WCF bullet was the same diameter as the .41 Colt bullet, making these .41 Colt SAA's one of the first "convertible" guns. See  our "Colt Black Powder Cylinder 38-40″, item #1221, under our Tools and Knives drop down menu.
Clarks Antiques Firearms – Colt SAA 41 4-3/4″  – Price $3,800.00 SALE PENDING
Item #1621
This Colt SAA 41 4 3/4″ pairs well with our Spotted Holster and Belt