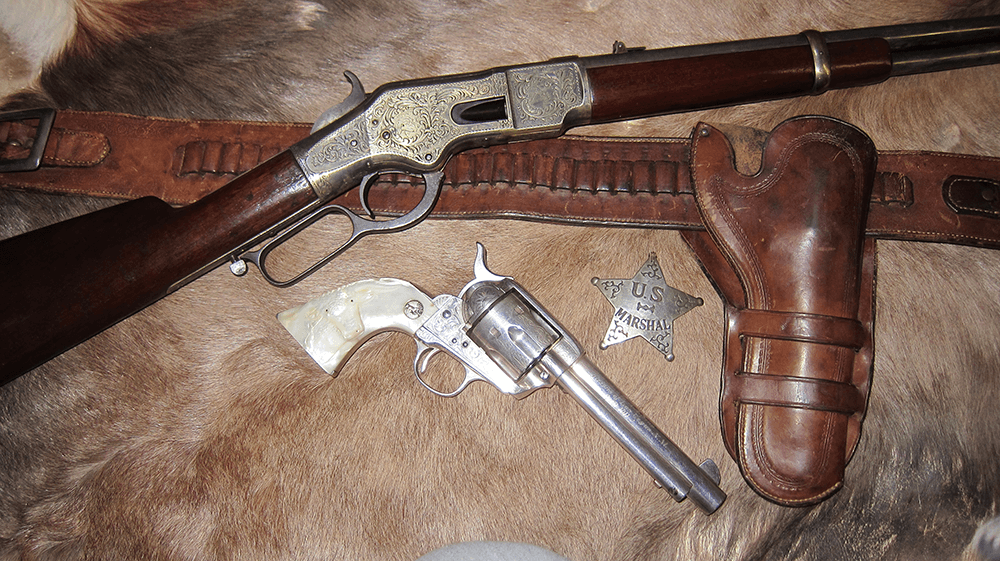 A lover of the Old West will appreciate this very desirable antique Colt SAA 45 4-3/4 revolver.  This Colt Single Action .45 caliber with a 4-3/4″ barrel (two-line barrel address), serial #161703, is nickel and comes with ivory stocks.  According to the Colt Archive Department (letter included), "the individual shipping record for it was evidently lost or destroyed many years ago, the records do indicate that it was manufactured circa 1895".   
Colt SAA .45 Condition
The overall condition is very good, showing approximately 50% of the original nickel finish. The nickel plate was either factory or dealer applied as it shows no indication of buffing or polishing and all the markings are sharp and clear. Also, there is some fine to medium pitting on surfaces where the nickel has flaked off. All the parts on the gun are original except the cylinder base pin. It is an old period replacement. The one-piece ivory grips are a mellow yellow color patina, with the right side showing some darker staining. They are in good condition, showing normal wear and some age induced shrinkage. All the numbers match and all the markings are correct and readable. Mechanics are good, the bore very good and the front sight is its original (unfiled) height. An authentic late model black powder gun with a black powder frame.
** Will not ship guns or any items with ivory to California, Washington State, New York, New Jersey, Oregon, or Hawaii because these states have a total ban on ALL ivory sales – new or antique.
Clarks Antiques Firearms – Colt SAA 45 4-3/4 – Price $3,950.00
Item #1645
This item goes well with our Shelton Payne Rig for Colt SAA