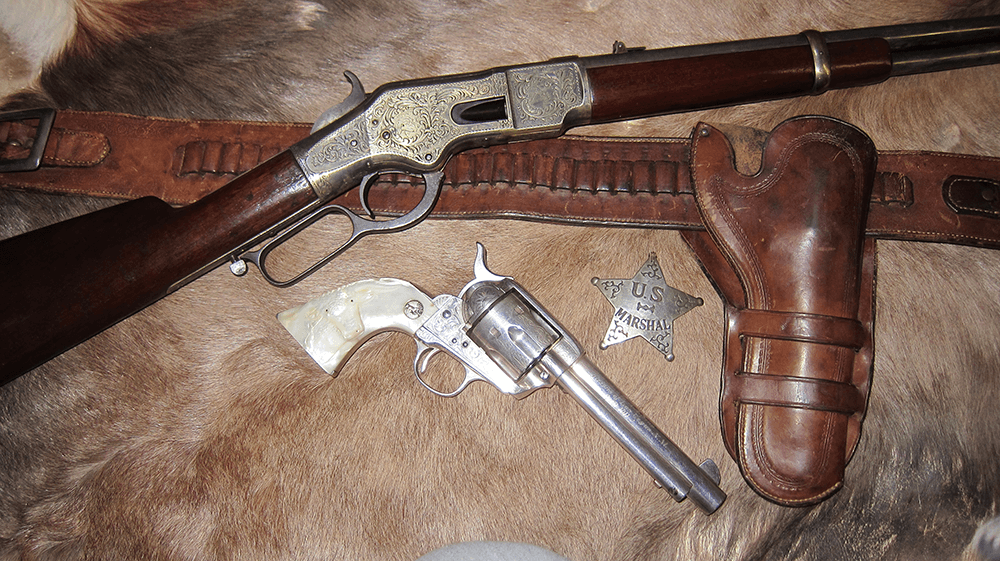 Factory Engraved Colt SAA
Historic New Mexico Inscription
Engraved Presentation Colt SAA
A true piece of Western history is this stunning factory engraved Colt SAA. This Colt Single Action Revolver has a historic New Mexico inscription to a Las Vegas, N.M. law man. The revolver is a first-generation Colt SAA presented to A. A. Sena, a New Mexico mounted policeman. The gun is factory engraved and factory inscribed "Presented to A.A. Sena by the Citizens of Las Vegas, New Mexica, April 1911". Very few factory inscribed presentation guns are known, and this one is an important historic arm from New Mexico Territory.
A. A. Sena
Apolonio A. Sena was a territorial mounted police officer (New Mexico Ranger) who was instrumental in the capture of kidnapers who took two-year-old Waldo Rodgers, son of Attorney A.T. Rogers of Las Vegas, NM.  For their pursuit and capture of the kidnapers, from the Citizens of Las Vegas, Officer Sena, Captain Fred Fornoff, and Detective Tim O'Leary of the Santa Fe Railroad Police each received an identically engraved and inscribed Colt SAA revolver. 
Documented History for Colt SAA
The presentation is noted in the East Las Vegas, New Mexico Weekly Optic and Live Stock Growers newspaper dated June 10, 1911. I have copies of the newspapers and others documenting the entire search and capture of the kidnapers. Also, included are copies covering Officer Sena's oath of office for the N.M. Mounted Police, dated March, 1909. In addition, copies of his notice of resignation, dated Oct. 2,1912, and Oath of office of Captain of the N.M. State Police, dated Jan. 4, 1919.  Lastly, a factory letter from Colt and a copy of the Colt Special Order Ledger which confirm the factory engraving and inscription.
Colt 45 Condition
The revolver is in overall excellent condition showing little use. First, it retains about 98% of its original silver-plated finish. Also, the carved pearl Ox Head grips fit perfectly. The Colt is a .45 caliber with a 5 ½" barrel. Furthermore, the action is good and the bore is excellent.
All the documentation for this beautiful Colt is included. Without a doubt, this is unquestionably 100% true and correct. Accordingly, you can see the story in "The Rampant Colt" Spring 2012 "Together Again 100 Years Later".  Also, a copy is included with purchase.
Certainly, a rare opportunity to acquire a historically significant law man's presentation Colt SAA with unquestionable provenance.
** Note:  FFL or C & R required for shipping. Cannot ship to California.
Additional photos and documents upon request.
Clarks Antiques Firearms – Factory Engraved Colt SAA – Price $50,000.00
Item #1131
This item pairs well with our Shelton Payne Western Rig for Colt SAA