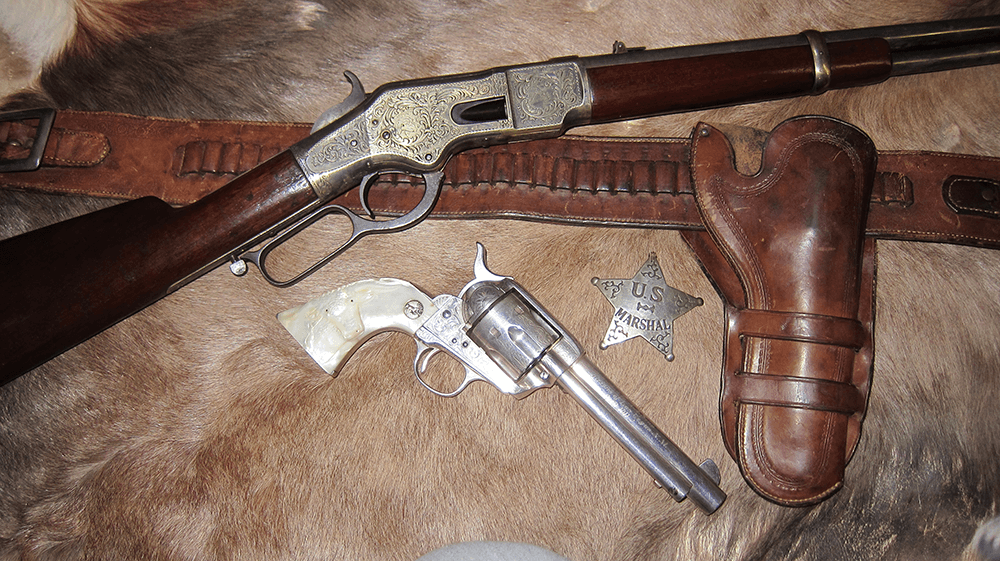 Percussion Derringer and Flask
An attractive shadow box display of a percussion derringer and flask.
The Derringer
The derringer has no markings as to manufacture, but appears to be a high quality European made, circa 1840's -1850's. It has a 4 ½" barrel, .50 caliber, damascus barrel. The lockplate, hammer, trigger guard, and butt cap are all nicely engraved in simple period scrolls. The butt cap has a hinged cap box. The grip shows fine checkering and the metal parts appear to be "in-the-white" – not blued. The pistol is in good working order and the rifled bore is good. It is in overall fine condition.
Flask
The powder flask is original to the same era as the pistol and looks to have a pewter body with an embossed winged critter of some sort. It is also in fine condition.
Both pistol and flask are mounted in a very attractive framed shadow box display, easily accessible from the back. This display hung in our trophy room for three decades.
Clarks Antiques Firearms – Percussion Derringer & Flask – Price $850.00
Item #1167
If you like this you may like our Percussion Pepperbox