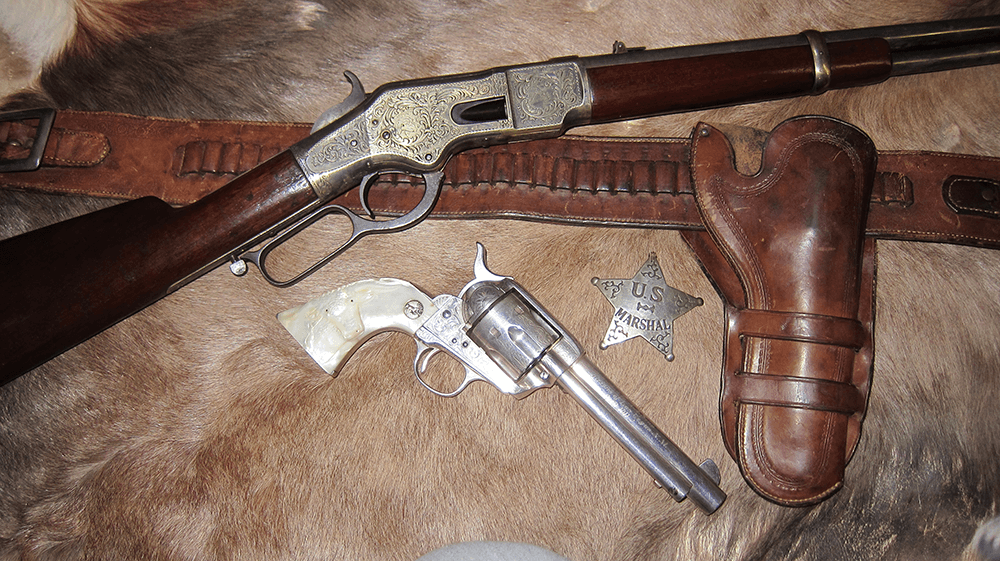 Rare Factory Engraved Colt SAA
An outstanding rare factory engraved Colt SAA in near new condition, showing little or no use. This beautiful Single Action Colt, serial #32XXX was made in 1876 and was shipped out in 1880. Factory records show that a significant number of revolvers were shipped in 1880 that were out of the normal serial number range. This particular revolver was shipped to Simmons Hardware Co., St Louis, Missouri on November 7, 1880. All the features are confirmed by a factory letter (included); 45/c, Nickel, Checkered Ivory Stocks, and Factory Engraved.
Colt SAA Mechanics
It shows all the correct markings and all serial numbers match, including the cylinder and barrel (under the ejector housing). The revolver shows the correct "half-moon" ejector head and ejector housing that came into use in late 1880. Condition is near perfect;  That said, 98% of the original nickel is present, along with all original nickel screws and correct cylinder pin.
Mechanics are excellent.  As well as the bore, showing some age discoloration. Also, the engraving is excellent and shows some typical Nimschke engraving motifs, i.e.; cross hatching with dots, kidney with spider webs, and his typical star. Could Colt have commissioned Nimschke to engrave this on a special order???
Colt SAA Grips
The checkered ivory grips show no damage and no losses.  However there is just some slight shrinkage from age. Also, they show a nice yellow patina and typical cracklature at the bottom.
With all that said, this is a magnificent find, a "10" on a scale of 1-10, and a great opportunity to acquire a rare early factory engraved Colt Single Action in outstanding condition.
This Colt was previously in the late Johnny Bassett collection. Mr. Bassett was a long-time board member of the Michigan Antique Arms Collectors and was very well known in the antique gun collector's community. This is one of many fine Colts he collected over the years.
Additional photos and documents upon request.
Clarks Antiques Firearms – Rare Factory Engraved Colt SAA – Price $25,000.00
Item #1646
If you like this you may also like our Nimschke Engraved Colt SAA