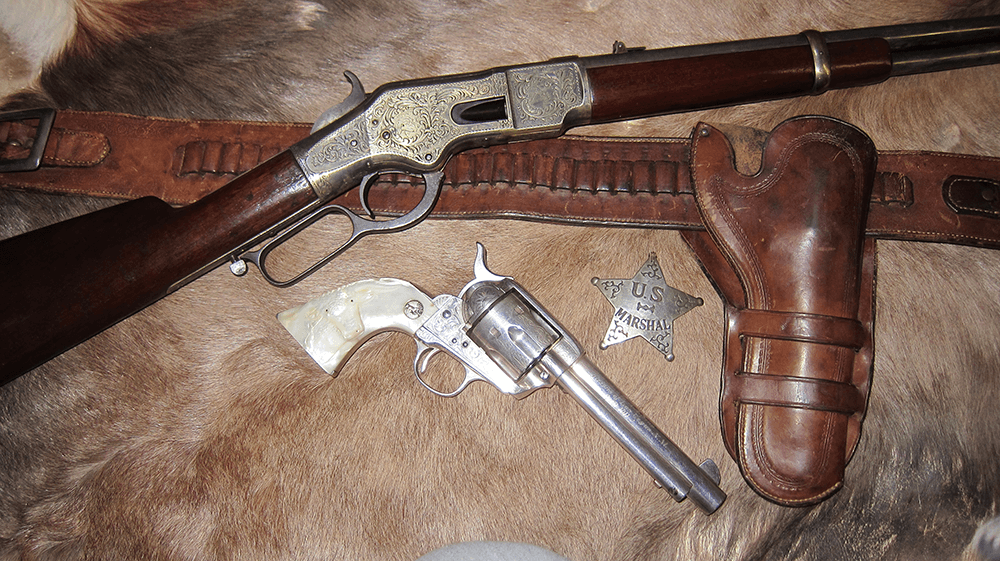 Marked "101" on Left Grip
This is an antique Smith & Wesson Model 3 single action revolver in a rather rare configuration. Additionally, it is marked "101" on the left grip, for the 101 Ranch. This model was made from 1878 to 1912, serial numbered 1 thru 35796.
The majority of these guns were .45, .44 and .38 calibers, with about 40% of the total production sold to foreign governments. This gun is a RARE .32 S&W caliber that was sold domestically. The serial number has been obliterated, with only 3??8? showing. It shows the standard barrel address, WITHOUT patent dates, on the barrel.
Revolver Condition
Only a few thousand guns showed this address without the patent dates, serial numbered within the 29652 – 31008 range. It has a 6 ½" barrel and factory walnut grips. Burned into the left grip is "101", for the 101 Ranch. The gun is in good overall condition with about 10% of the original blue in protected corners. The walnut grips are very good and fit as they should. The mechanics are good and the bore is very good.
Most of these old 101 Ranch guns show a lot of use as this one does. Its markings and caliber make it a RARE and more desirable configuration to collectors, as well as the 101 Ranch provenance.
NOTE: Information received direct from Smith & Wesson states, "all frames were manufactured by 1898 making all New Model No. 3's antique".  
Clarks Antiques Firearms – Smith & Wesson Model 3 – Price $1,650.00  
Item #1632
If you like this item, you may be interested in our Colorado Rangers Outfit