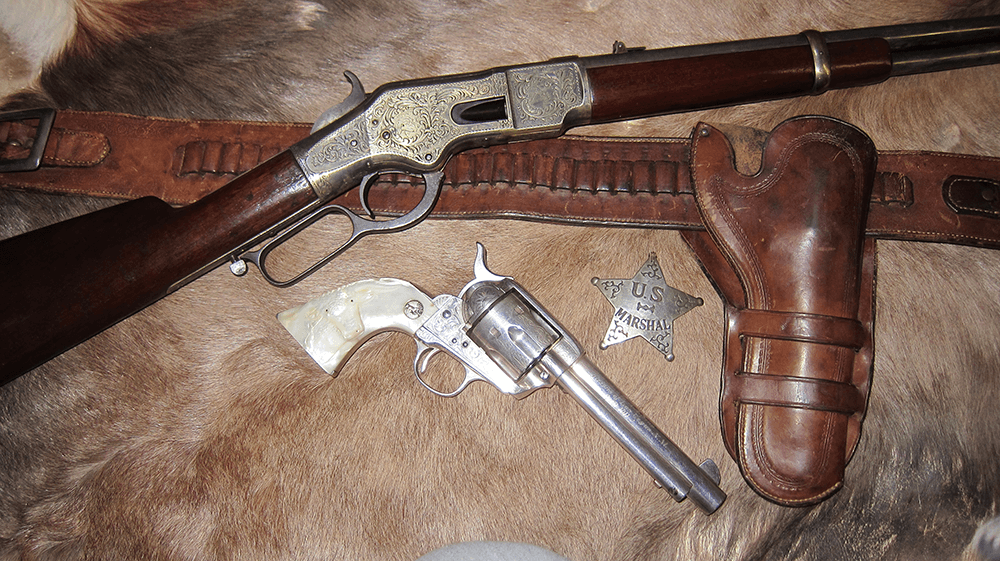 Engraved 66 Winchester SRC
This engraved 66 Winchester SRC shows special order nickel trim on the frame with period engraving added.  An early 3rd model 1866 Winchester Saddle Ring Carbine, serial #27XXX, made in 1869. 
The engraving is well done with the Mexican snake and eagle motif. This particular engraving pattern was attributed to the Ulrich's, see "Winchester Engraving" by R. L. Wilson, page 79, and was copied by many engravers of the period. It was a classic engraving pattern in the South West Territories with the snake & eagle being as popular in South Texas as it was in Mexico.
66′ Winchester Condition
The gun is in overall very good condition. The brass frame retains about 40% of the original nickel plating – mostly on the left side. The barrel and magazine tube retain a thinning blue finish that has turned to a plumb brown overall, as does the front sight barrel band. The rear barrel band has been cleaned and the screw (somewhat buggered) is an old period replacement. However, the rest of the screws are good and appear to be original.  Also, the hammer shows some remnants of case colors and the trigger and loading gate are a dark patina with medium pitting. The bore is fair showing a lot of use and black powder erosion. The mechanics are good, but the half cock position is not working. The barrel address is good and readable and the rear sight is original and unbroken. The gun has been period converted to 44 center fire (44 S & W American) which was very common on guns that were used up into the early 20th century.
The stocks are also in very good condition and show normal dings and scratches from use. The butt stock has four notches on the top right side, near the butt plate. The forend and the butt stock both have an old coating of varnish and the wood-to-metal fit is excellent. Under the butt plate, stamped into the wood is a name and date, "CHUCK'S, 11-10-67", most likely a previous collector.
This is a great looking gun with that south western look.
Clarks Antiques Firearms – Engraved 66 Winchester SRC – Price $10,500.00
Item #1444
This item pairs well with our 44 S&W American Ammo