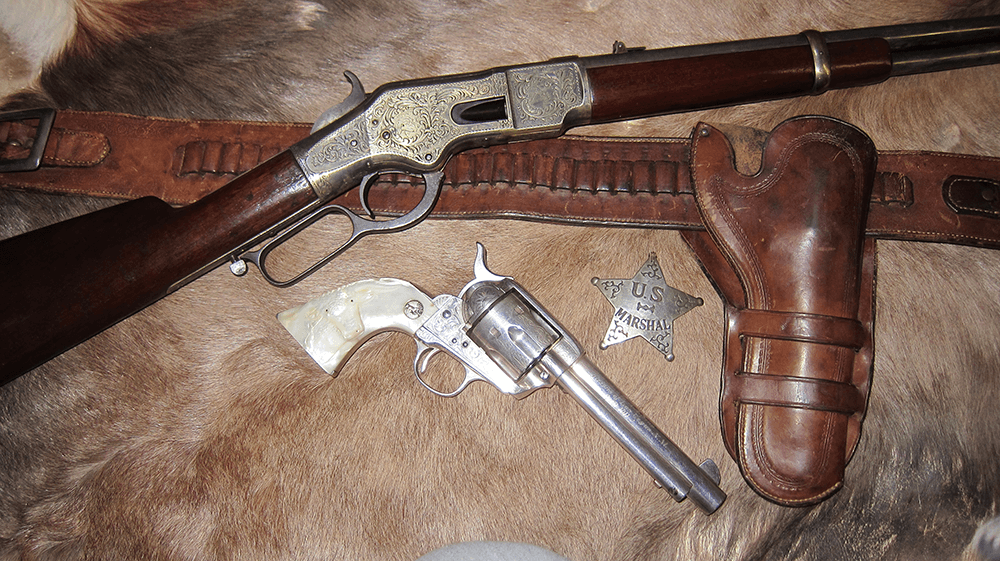 SRC in rare full nickel finish
A Winchester 1866 SRC in rare full nickel finish.
This Winchester 1866 for sale was also known as the "improved Henry" and is a great piece to add to a collection of western used firearms. Frontier cowboys favored the brass framed Winchester repeating rifle. Thus they are very sought after for todays collectors. This carbine is still in full functional condition after decades of use and still shows a rare full nickel finish. It would be a valuable addition to any period collection of cowboy memorabilia.
Winchester "Yellow Boy" 1866 Carbine
This Winchester Model 1866 Saddle Ring Carbine has standard features along with special-order full nickel finish. The carbine has been period converted to center fire and was most likely used well into the 20th Century. It's date of manufacture is 1877.
The carbine is in overall good, well used, but not abused condition. In addition, the brass frame retains about 65% of its original nickel, the hammer 80%, and the barrel about 25%. With the exception of a replaced brass butt plate, the gun is all original.  Although, the butt plate is correct, it is numbered to another 66′ and not a perfect fit. Also, it is converted from rim fire to center fire. The screws appear to be original and mostly good with a few slightly buggered, but still serviceable.
Because of flaking nickel, the markings are light and a little hard to read, but all correct. On the right forward side of the frame is stamped, in small letters, a "7" over "CL"??? Common on well used 66's, the upper portion of the rear sight is broken off. The mechanics are good and functioning as they should be. Also, the bore is good and shows strong rifling. The wood-to-metal fit is perfect. Likewise, the wood is good and original to the gun with the normal dings and scratches from use and carry.  Lastly, there is a ¾" "X" carved into the right side of the butt stock.