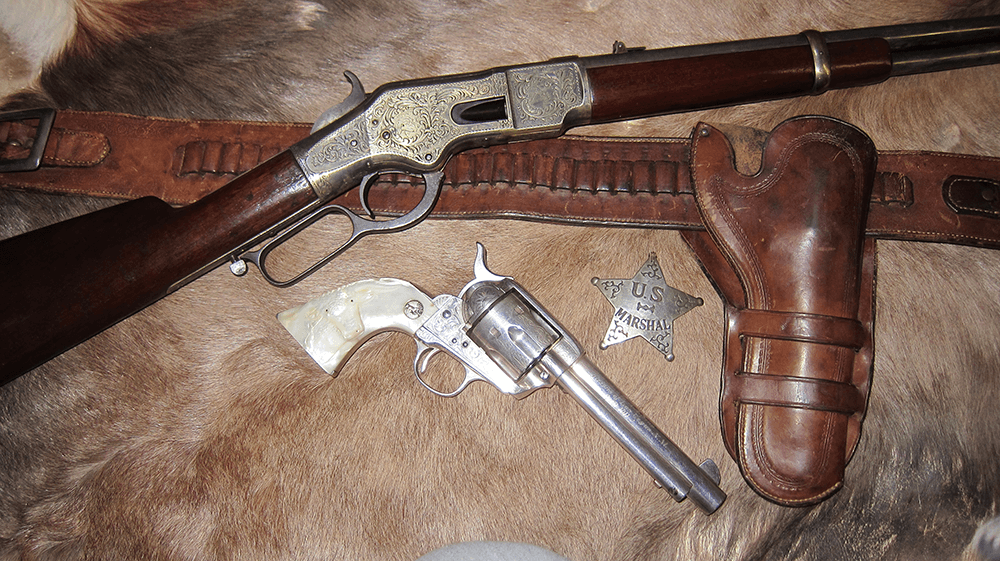 Saddle Ring Carbine
This is a very attractive 3rd Model Winchester 1866 SRC, made in 1870. It's a rare nickel-plated saddle ring carbine of which only 300 1866's were plated in some manner. According to George Madis "The Winchester Book" plated model 1866's is of greater rarity than inscribed or engraved 1866's.
The serial number of this gun is 50171, made in 1870, showing use & age, is still in overall very good condition. The nickel trim is on the frame, lever, loading gate, and butt plate. It still retains approx. 90% of the nickel. The barrel and magazine bluing has turned to a mellow plumb color with some medium to heavy pitting just above the wood forend on both sides. Original sights are in place and the screws appear to be original – most with good slots. 
Winchester Mechanics
The mechanics are good as well as the bore, showing strong rifling with normal minor erosion due to black powder use. The carbine has been converted to center fire, a common practice for guns used well into the 20th century. The barrel address is light, common on these early Winchester carbines. The original stocks are retained with the butt stock numbered to the gun. The stocks have been lightly sanded and re-finished – they look great. There is a crack in the forend at the right front side, forward of the barrel band. A reproduction cleaning rod is in the butt stock cavity.
This Winchester 1866 SRC is a great looking 66' carbine, unabused, most likely used well into the 20th century.  Being a rare nickel trimmed carbine, this would enhance any collection of unique and desirable Wichesters.
Clarks Antiques Firearms – Winchester 1866 SRC – Price $6,500.00
Item #1705
If you like this you may also like our Winchester 1866 Trapper SRC